How to Get Notification for Everything on Android
Android is probably the best product that is powered by the web giant, Google. Billions of people are using Android mobiles out there. Android has some cool and handy features those often help people to get notification from various sources. For instance, Google Now is a great invention of Google's Android that helps users to get quick result using voice command. The same thing can show notification for different things including weather, soccer match or any other popular news that is trending in your local area.
However, sometime users want to get more notifications with their own customization. At such moment, Google Now doesn't work well. However, here is an Android app that will let you set alarm for almost everything. You will be notified by this app whenever your preset requirements meet the actual happenings.
Get Notification for Everything on Android
This app is called Hooks. Hooks is a free Android application that is available for Android 4.1 and later version. The most beautiful thing is you do not have a rooted Android mobile to install this app. That is why this app has been downloaded for more than 50k times from Google Play.
In simple words, Hooks shows push notifications on demand. You can get notification for following things,
Sports
TV/Movies
Events
Weather
News
Tech
Social
Education
Finance
Games
Music
And many more. The most exciting feature of this app is you can set any notification as per YOUR requirements. Although, it comes with a lot of predefined conditions, yet, you can modify them according to your wish.
To set any notification, install and open this app, at first. Following that, you will get a screen something like the following picture,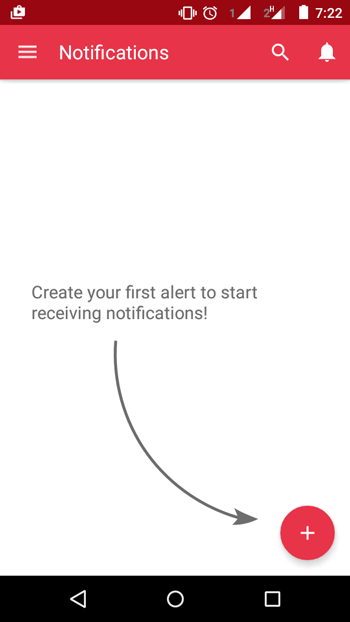 Tap on plus button to add new push notification. Now, you will get tons of things including those aforementioned notification categories. You can either go through the suggestion & preset notification or you can create your own by modifying. To use any predefined notification, just select one and tap on Add button. After that, it will take a few moments to be added in your wishlist.
After adding all the notifications, you can back to the start screen, where you will get all added or selected notification conditions.
If you want to edit any notification requirement, just tap on that. The same thing can assist you to know more about that specific notification as well. Suppose, you have selected Manchester United Results, which will display all the United's results after the full time. Here you will get all results (as usual), toggle sound notification, delete or edit it.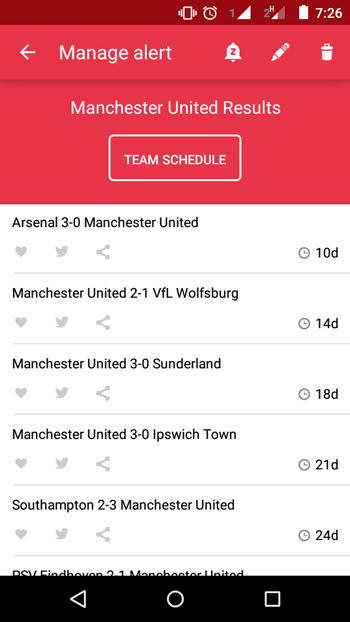 The most important part is it can show you a related news post inside the app. Hooks comes with an in-built browser that will let you check the latest article related to your notification.
Therefore, you can also share it on various social network like Facebook, Twitter, Google Plus and more.
Alike this, you will get more other and different options for different notifications.
Verdict
If you need basic notifications for sports, finance, weather, Google Now can handle it and show you everything what you need. But, if you want to get more detailed notifications as well as related news, Hooks can certainly help.