Missing Start Button in Widows 8? Try Win+X and Classic Shell
I have been using Windows 8 Consumer preview and afterwards Release Preview since Microsoft rolled them out with its signature and also the most debatable Metro Start Screen and doing away with Windows eternal Start button.
New operating system, new interface, some new set of added features, a new approach to doing things but the absence of a Start button is still being felt heavily in Windows 8, which any regular user used to hit to start their computing tasks. If the problem seems so frustrating "Win key+ X" can be a breather.
It does not matter whether you are on desktop home or on Metro Start Screen just hit "Win Key+ X". The context menu box opens at the bottom left of the screen as your straight access point for those managerial tasks, command Prompt, Search, Control panel that you used to execute from Start button.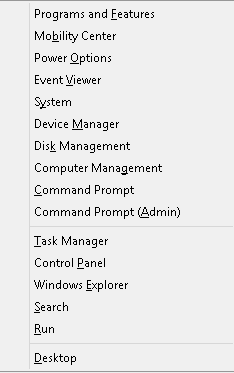 Now, if you are thinking that you have just discovered the missing start button in windows 8, you are welcome. However, I am sure that most of it is still missing from the last tweak. For them the answer is Classic Shell, an open source free utility for Windows and a clone of the original Start menu. It also works on Windows 7 and Vista. But then if it means to replicate Start button why use it on Windows 7 and Vista.
If you download and install it you can find your start button waiting for you at the bottom left corner of your screen. Moreover, it enables you to customize the start menu and also supports an array of trifle features like, drag and drop to organize your applications, a programs cascading menu, show recent accessed documents and more.
User can choose to set a one click access to Control panel items from Classic Shell settings, which are showed as menu items.
Among all these one added thing is that, if you are yearning for Metro mode, you can easily switch back to it by left clicking on the Start button while pressing "Shift" key. However, using the "Windows Key" you can still get the Metro start.
There are some additional skins available that are worth a try. Still the final version of Windows is yet to hit the market and we do not know if it will let users to add this useful software or not. As of now let us enjoy the missing start button in Windows 8 and hope for the best.
Feel free to comment and always share if you dig out more of it. It will surely unfold the applicability of Classic Shell and at the same time help our readers.
Related Reading: