After Windows 2000, Me and XP, Windows 7 was a revolutionary operating system. Just like Windows 7, Windows 10 is yet another awesome OS after Windows 8 and 8.1, which were not so useful in terms of users' feedback. However, Windows 7 came with a lot of updates, features and tools. It was a mesmerizing OS for all kind of people. After few years, Microsoft launched Windows 10, which also can be used by any kind of people. No matter, whether you are a student, office employee or anything else, but you can certainly opt for Windows 10 as this is very feature rich and a lot of features can be found for any kind of people.
Anyway, Windows 7 came with some games called Chess, FreeCell, Hearts, Mahjong, MineSweeper (probably the toughest game in the world) and more others. Now let's assume the following situation. Suppose, you are a Windows 7 game player and you have upgraded your machine to Windows 10. The first thing you will check is games. Unfortunately, you cannot find any game in Windows 10. Not only Windows 7's games but also none of the game will be found in Windows 10.
Although, Microsoft has included so many features in Windows 10 but at the same time, they have ditched some useful and interesting things from this OS. For instance, the Windows 7 games those were available previously, are not obtainable for Windows 10 users.
Therefore, if you want to get Windows 7 games in Windows 10, here is a solution. You will get all the games of Windows 7 in Windows 10. However, this is not possible without using any third party software. You will have to install a free third party app to get things done.
Get Windows 7 Games in Windows 10
This is very easy and you do not need any expert knowledge. At first, download this free tool to your Windows 10 PC. This is about 147 MB. Although, this is small, but you will get all the games like Chess, FreeCell, Hearts, Mahjong, MineSweeper etc. in this package. After downloading, double click on the setup to start installation. During the installation, you can find a screen something like the following picture,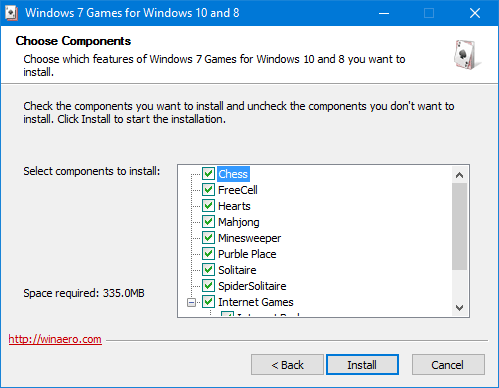 Here you can select whether you want to install the Windows 7 games or just install a specific one. After choose, hit the Install button. Therefore, you will get all your games in your Start Menu. You can open them from Start Menu or you can search for that game. These will be installed as a software, what can be uninstalled anytime whenever you want.