One year back, when Microsoft launched Windows 8.1 for consumers, there was only one thing that everyone should have in order to get Windows 8.1. That is valid product key. Actually, Microsoft launched Windows 8.1 at partially free of cost. That means, you must have Windows 8's product key to get Windows 8.1 upgrade.
There were different problems too. Suppose, you were using 32-bit version of Windows 8 and you had to use 64-bit version of Windows 8.1. There was no such option to pick 32/64-bit architecture. If you had 32-bit version of Windows 8, Microsoft offered 32-bit version of Windows 8.1. The same thing had happened with 64-bit version as well.
Apart from that, there was no such option to extract ISO image from the downloaded installation files. That implies, if you wanted to upgrade your Windows 8 to Windows 8.1 on multiple PCs, you had to download that separately. There were more issues for Windows 8.1 users.
However, after one year, Microsoft is rolling out the ISO image of Windows 8.1 and other major versions. No, this time, you can get the ISO image without having any valid product key. You can download and burn it on DVD or create bootable USB drive to install on as many PCs as you want. This process will let you install Windows 8.1 once you download. But, make sure that you have valid product key to activate Windows 8.1.
Read Also: How to Create Bootable Pen Drive of Windows 10
How to download Windows 8.1 from Microsoft?
Actually, Microsoft is helping users to create installation media for Windows 8.1. You can download either 64-bit or 32-bit version of Windows 8.1, Windows 8.1 Pro, Windows 8.1 Single Language Pack and so forth.
Before creating a bootable DVD or pen drive of Windows 8.1, make sure you have sufficient hardware.
Head over to this link and click on Create media button.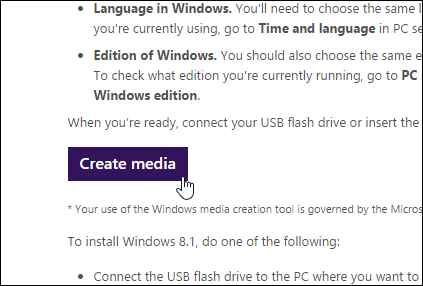 It will download a small file. Just open this download file. You will get a window something like the following picture;
Fill up the empty boxes with proper details:
Going forward, you will get the following window,
Just select ISO File and click the Next button.
Now, you have to select the destination path. After that, download will be started automatically.
Hope this little workaround would help you to get the official Windows 8.1 ISO image.