Ghostery Firefox Add-on lets You Manage All Trackers
Firefox is probably the best web browsers when it comes to secure web browsing on a great user interface. You can browse any website and Firefox will perform same on all those sites. Nowadays, thousands of trackers have been launched to track your browsing behavior and offer better advertising or tailor search results. Although Firefox does take care of different trackers from the core, you certainly need to do something else to manage them correctly and get a better browsing experience all the times. Ghostery is such a Firefox add-on that allows users to manage all kind of trackers inside the browser. This is completely free, and you can have a great experience with this add-on.
Ghostery Firefox Add-on Lets You Manage All Trackers
It doesn't matter, which website you visit, but you certainly leave a footprint – thanks to the trackers that track you even when you leave the site and browse other websites. Having said that, Ghostery would let you browse through Firefox browser with a better experience since it can block all kind of trackers based on website or universally. Talking about the memory consumption, Ghostery consumes very less memory and storage, which eventually provides a quite good security.
Talking about the features of Ghostery, you will get the following options inside this add-on
Create an account to synchronize all the settings across multiple devices.
Show Tracker URL parameter so that you can understand what a particular tracker does or is doing.
Highlight interactive trackers so that you can know when you should allow a particular tracker.
Allow/block individual tracker.
Block advertising, site analytics, customer interaction, social media, tag manager, privacy notice, audio/video player, 18+ advertising, comments and many more trackers.
Allow/block the particular website.
Block particular tracker on a particular website or universally.
There are many more options and functions included in this Firefox add-on. However, you should try this to know more about them.
To get started with Ghostery, head over to this page and install this add-on in your browser. After installation, you can get a window like this,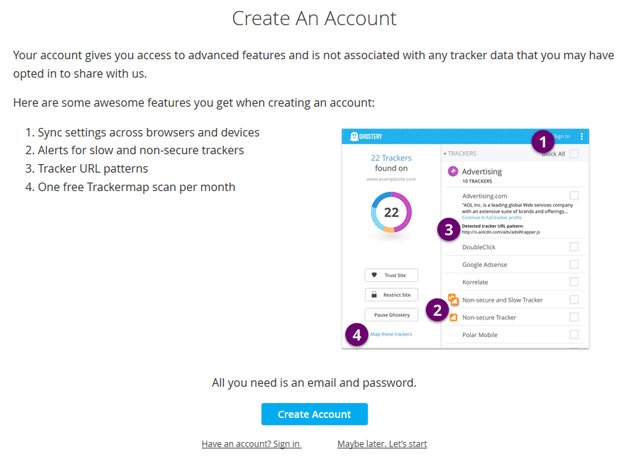 Like mentioned earlier, you can create an account to synchronize all the settings across multiple devices, and unlock some advanced features. Therefore, create an account and go to the next screen, where you can find all the options.
Switch from one tab to another to enable or disable particular features. The Blocking Options tab contains all the features to block/allow specific tracker. You can either block the whole category or block particular tracker by clicking on the category.
If you want to allow all trackers on a particular website, go to Trusted Sites tab and enter the domain name. The Restricted Sites tab will allow users to prevent a particular site from applying any tracker. In that case, you also need to enter the domain name one by one.
Considering all the features of Ghostery, it is confirmed that you will get an excellent browsing experience with Firefox browser. Do install this add-on and don't forget to create an account to unlock all the features.