All of us have had times when we needed to get in touch with a friend immediately, but we have forgotten their phone number. You could try looking for where you have it written down, or looking for it through the phonebook. What if there was another way to find their phone number? Now, there is a brand new service that allows you to call a Twitter handle as opposed to a phone number.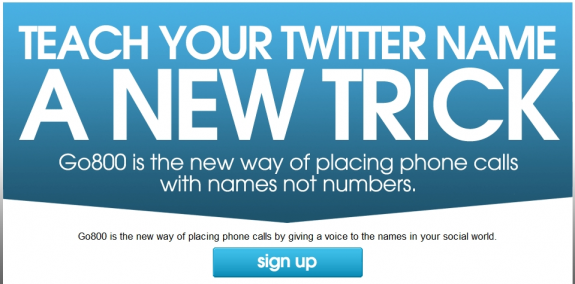 Go800 allows users to link their Twitter account to a phone number. You can use your cell phone, your land line, or even a Google Voice or Skype number. The only caveat is that the number you use must be toll free. The idea is that you can give friends or colleagues your Twitter handle, and with that they can get in touch with you via the phone.
Setting Up Your Go800 Account
Getting started with Go800 is really easy. Head over to their homepage and click the blue 'Sign Up' button.  Fill out the information requested and then hit the 'Create Account' button towards the bottom of the page.
The next page you see will be the page where you connect your Twitter profile. If you have ever connected your Twitter profile to another service before, you are familiar with the process. Press the button, provide your credentials, and select Allow.
The last step in the sign-up process is to provide the phone number you will use with Go800. Fill out the information required, and hit the 'Save' button below the form.
Possible Pitfalls of a Twitter Username Phone Number

As I see it, the most blatant issue with Go800 is the fact that anyone will be able to call you if you set up this service. Go800 saw this issue as well, and has included a great set of security features with their service. You can set up a whitelist of users that are allowed to call you, and anyone not on the list will not be able to call your number through Go800.
Beyond that blatant problem, I see very little that could go wrong here. As long as you are careful about who you add to the service, you will not have any real issues. My suggestion is to only use it for friends and possible co-workers that may need to find you, but don't know your phone number. Go800 has a free option that includes 100 minutes of calling a month. There are other paid plans available.
What are your thoughts on Go800? Do you like the idea of having a phone number attached to your Twitter handle? Leave your comments in the section below.