Google analytics motion charts offers multi dimensional analysis of your metrics for s specific date range. Using the motion charts, you can visualize the trends in traffic and compare them with multiple dimensions.
Example: Say you want to know, how the visitors coming from referring sources has changed during the course of last three months. You would also like to compare the revenue earned from the traffic and see, which site is bringing more revenue and which site is bringing returning visitors and so on.
The report can be generated from the "Referring sources" section of your Google Analytics account, but the motion charts allows you to see a short video of the data for a date range. You can visually compare the ups and downs as seen in the following image: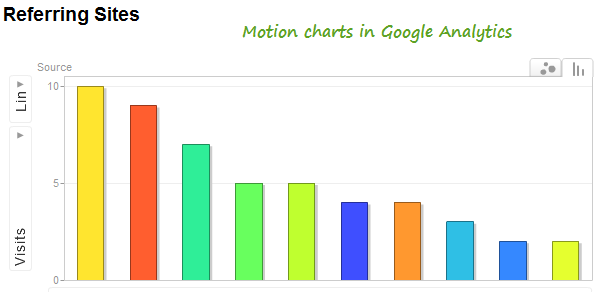 How to Create Motion Charts in Google Analytics
Motion charts are not available in all report segments but you can generate motion charts of the following metrics:
1. Traffic Sources: This includes Referring sites, search engines., all traffic sources, keywords, campaigns and adwords.
2. Content: This includes top content, content by title, content drilldown, top landing pages and top exit pages.
3. Visitors: This includes New vs returning, languages, visitor loyality, browsers, operating system, flash versions and so on.
To create a motion chart of any of the above metric, click the "Visualize" button from the report page as shown below:
In the next page, select the values from the right sidebar which you want to compare. For example, you may want to compare the visits from two search engines or may be from two referring sites. After that, select the metric for comparison from the left sidebar. This metric will determine exactly which set of data you want to compare. Then click the "Play" button to start playing the motion chart.
Motion charts allows bubbles and graphs but I think the graphs looks a lot better than bubbles. Also read how to create charts using Google docs and web based tools.
Further reading:
1. Google's official guide to Analytics motion charts
2. How to Master Google Analytics Motion Charts – Search Engine land
3. Some Must Have Custom Segments for Google Analytics
Here is a short video showing Google Analytics motion charts in action: