Do you remember Google Fit, which was announced back in Summer? If NO, here you go. Although, Google has given so many hints and launched the Google Fit SDK for developers long time back but now they have launched dedicated Google Fit app for Android users.
If you know about Apple' Healthkit, you will get some similarities to this Google's health solution. Although, Google has started working with various companies to provide apps and gadgets related to Google Fit but this app is the first thing what users can use. Nowadays, people are much conscious about their health.
You can obviously go to gym, do some exercise or even do the same in the morning. However, all the things are useful unless and until you start tracking your result. To aid you to record all the data, you can simply use this free Google Fit app on your Android device that is running on Android 4.0 or later version.
On the other hand, you can access your data on your PC by going to the official Google Fit website. This is also possible to use the app on your Android Wear smart watches.
User Interface of Google Fit
The user interface of Google Fit for mobile is really awesome. As this is also available for Android Lollipop, you can get the material visual design in the app. The flat user interface looks awesome. The most important thing is all the options are organized. Hence, you will get clutter free UI.
Features of Google Fit
As of now, Google has integrated only couple of basic features such as weight tracking, running time, walking time and few others those are similar to them. Users would be happy since they can get all the information and changes in a graph style layout. Therefore, it would be easy to check whether he/she has lost weight or gain the weight. Not only weight but also users can get activity or exercise time in a graph. You can browse and check activities based on time. Means, you will get Today, Tomorrow, This Week, This Month, Previous Month and more other options.
Google Fit starts with such a screen or the start screen is covered by today's activity. You can find your ACTIVE time on the start screen.
Screenshot Tour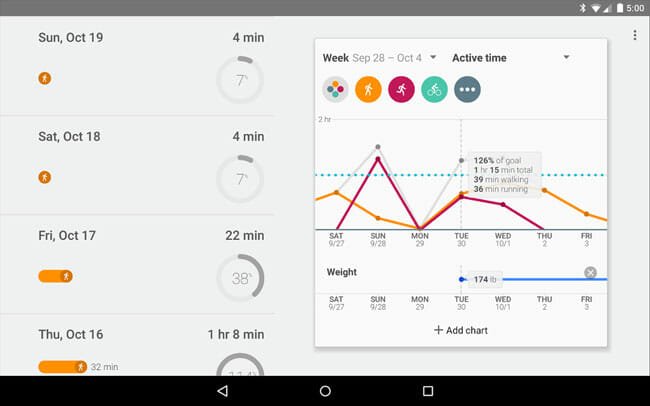 Hope you will like this application and the workflow. Do let us know your opinion.