Google has Launched New Bookmark Manager for Chrome
Do you use Google Chrome on your mobile and PC? If yes, you might have already used the Bookmark feature of Chrome. Actually, this is a common feature of any web browser. Suppose, you want to read an important article on the web but you do not have much time. At such moment, you can simply bookmark that page to read later.
Google Chrome provides a better option to get all your bookmarks on multiple devices. Actually, you can sign in to Google Chrome and get all browsing data, saved passwords, bookmarks and all other stuffs across multiple devices.
To get more out of this bookmark feature of Chrome, Google has officially launched dedicated Bookmark Manager Extension. This third party Chrome extension replaces in-built bookmark manager of Chrome. You will get a far better user experience using this extension.
So, at first, download it from Chrome Web Store. After that, you can get a yellow STAR instead of old STAR icon to bookmark any page. As usual, you have to make use of that icon to bookmark any page.
Alike previous feature, you can also create new folder to manage our bookmarks. This is as simple as said.
The workflow of this new Bookmark Manager ends here. However, wait; you will get another important option to manage bookmarks. This is where it excels. It provides amazing bookmark management interface. You just need to sign in to Chrome to get that. You can do so by clicking on VIEW ALL BOOKMARKED ITEMS.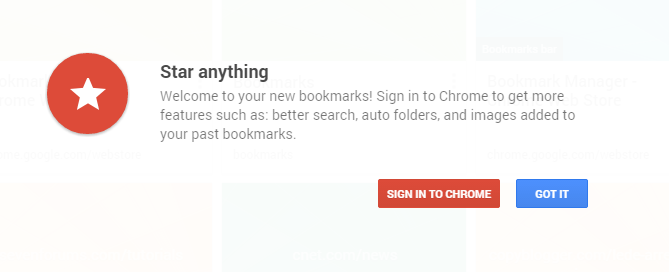 After signing in, you will get semi-flat user interface, which will let you organize your bookmarks. You will get all your bookmark folders in your left pane.
Just click on any one of them to expand the bookmark list. You will get more new folders i.e. Free, Google, Images etc. Actually, those are made automatically according to your existed bookmarks.
If you have mistakenly entered a wrong name for any bookmark, you can simply edit that. Just click on the Options icon of corresponding bookmark and select EDIT. After that, you can make changes.
This is also possible to enter a note to recognize any bookmark. For example, you have bookmarked a webpage to download an image. You can write down that note under the bookmark name.
If you want to move any bookmark from one folder to any other folder, just select that and head over to the option that says Move to Folder.  After that, you can select desired folder.
Previously, it was very easy to import and export your bookmarks. Now, it is easier than previous. Now, you have to click on SETTINGS icon and select either Export bookmarks or Import bookmarks.
This Bookmark Manager has some other significant features as well. Just install it in your Chrome web browser to know more.
Download Bookmark Manager