Google's URL shortening service Goo.gl has released a new feature to show stats for the shortened URLs generated by the service. To see it in effect copy the Goo.gl shortened URL and add ".info" at the end and open the link on your browser.
Since the launch Google has integrated this shortening service in News, Blogger, Maps, Picasa Web Albums, Feedburner and Moderator. Yesterday Google launched the website for the service exclusively and shows intentions of not burdening it with other services. Over the time, Google claims that they have sped up the service. As per the official blog post from Google they will be adding spam filters to the service similar to that in Gmail. They also promises to make it the most "stablest, most secure, and fastest URL shortener on the web".
To use the service just open http://goo.gl/ in your browser and you will be able to shorten the URL in a nice and clean interface. Next time you wish to check the stats just copy the Google shortened URL, append ".info" (without quotes) and open it using any browser. If you are keen to get more advantages out of service just login to your Google Account and use it. You will have a list of shortened URLs you generated using the goo.gl. Beside each link you will find a "Details" link clicking which will show the stats for it.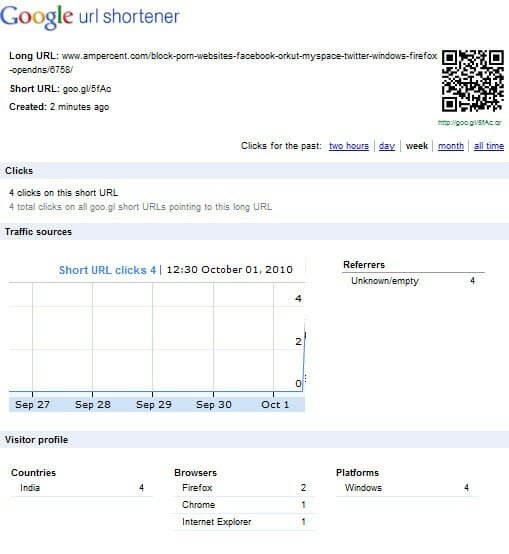 The shortened URL stats include several metrics which are
1. Top Referrers.
2. Platforms.
3. Countries.
4. Browsers.
5. Time Frame.
Other shortening services that provides stats are ow.ly and bit.ly. Bit.ly the pioneering URL shortening service provides similar feature of showing stats for a shortened URL only by opening the shortened URL with an "+" appended at the end. On the other hand, Google is still to provide official API and lacks useful features like customizing shortened links (offered by bit.ly).