Must Have GoPro Accessories For Action Video Shooting
GoPro is a great action camera and probably the best one available in the market. But you need some accessories to capture the best video. Let's assume that you are going for scuba diving or skydiving, but you do not have the proper accessory to capture the video. At such moments, you need some of the best accessories to capture the best moment. Here are some of the must-have GoPro accessories for action video shooting. We have provided the official Amazon link, but this is recommended to check other websites and local vendors to find the best possible deal.
GoPro Accessories For Action Video Shooting
1] Memory Card
A memory card is probably the essential thing for your GoPro. Let's assume that you are about to record something, but you do not have the proper storage in your existing memory card. At the moment, you might need higher storage so that you can keep on recording. As GoPro files are better as compared to other mobile phones, you might need to opt for higher storage to store your video recording. No matter which memory card you choose for your GoPro, make sure that it has a higher reading and writing speed. Otherwise, you will have to spend a lot of time while trying to transfer files from GoPro to your computer.
2] GoPro Super Suit
If you need a completely waterproof case for your GoPro action camera, you should buy a Super Suit With Dive Housing. People use GoPro in different situations, and if you use this action camera for scuba diving, you must have a proper waterproof case so that you can protect your camera from being damaged. This case is available for almost all the GoPro versions, including Hero 7. According to the official statement, this waterproof case can protect your camera even when you are under 60m deep into the sea. In other words, you can use this suit while going for scuba diving without any issue. Purchase
3] GoPro Performance Chest Mount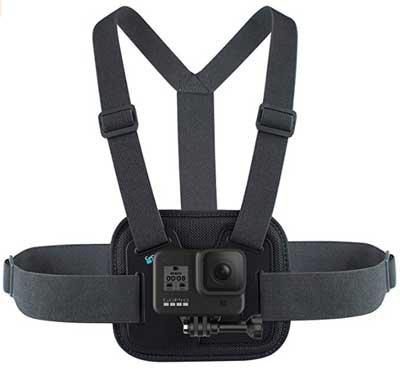 Let's assume that you are going on a trek, and you want to record everything on the go. There are only two places you can place your GoPro action camera –  on your forehead and chest. If you are planning to put your camera on your chest, you might need to get a chest mount like this one. It does not cost a lot, but it does the job well. After using this chest mount, you won't feel any weight since it is probably the most lightweight accessory you can buy for the GoPro action camera. No matter if you are skinny or you have gained some weight, you can adjust the width of the chest mount after putting it on your chest. Purchase
4] Waterproof Floating Hand Grip
If you want to capture underwater video with your GoPro camera, there are two ways to get it done. The first method is quite risky as you can use your hand to hold your camera only. This is risky because more than a thousand people have lost their cameras while doing such things under the water. The second method is to get a waterproof floating hand grip so that you can mount your camera on the grip and use the mount to tie up the camera with your hand. This little accessory does not cost a lot, but it can save your expensive GoPro camera from being drowned into the river. Purchase
5] Screen Protector for GoPro
Most of the GoPro cameras have at least two sides that can get scratches –  the screen and the lens. To protect your camera from getting any scratches, you can apply a tempered glass on it. They are available at a very affordable price, and they do the job very well. If you go to replace your screen or the lens cover, it will cost a lot, but a simple $10 product can protect your camera and save your money. Purchase
6] GoPro Handlebar Mount
Let's assume that you are going for a bicycle ride, and you want to record everything on the go. There are three places where you can put your camera – on your chest,  forehead, and handlebar of your bike. If you are planning to place your GoPro camera on the bicycle handlebar, you might need a handlebar mount. On the Amazon website, these simple GoPro accessories can cost around $30, but you can check out some local vendors to find it at a lower price. You do not need to have a mechanical engineering degree to mount it on your bicycle since you need to deal with a screw to get the job done. Purchase
7] GoPro Gimbal Stabilizer
If you are recording a music video with GoPro, you might not get a good video quality since GoPro can record a shaky video. That is the reason why you can purchase a gamble stabilizer so that you can record video without any problem. Although this is not recommended to use a gimbal stabilizer while riding a motorcycle for a bicycle, you can use it to record videos while walking on the street. Like a mobile and DSLR gimbal stabilizer, the GoPro gimbal stabilizer costs a lot. However, the output would be excellent. On the Amazon website, a simple GoPro gimbal stabilizer is priced at $99. Purchase
If you are thinking of recording an action video using your GoPro camera, this is recommended to get some accessories. On the Amazon and some other websites, you can find the combo pack at a meager price.