Quite some time back we shared a nifty little map tool called ShareMyMap which allows users to create customized maps of any location and share their maps with friends and followers.
Now here is another interesting web app called LikeOurselves.com which lets users chat with random strangers from a particular location who share the same interest as yours.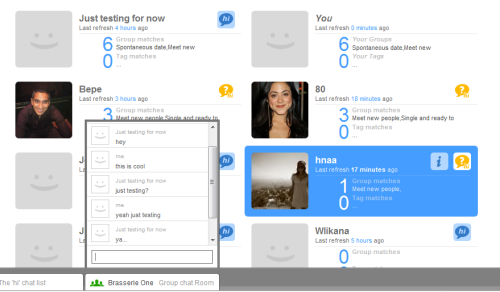 It works like this – you go to LikeOurselves.com, create a profile, upload an avatar image (not compulsory) and that's it. You are all set for a random chat experience with strangers who are from the same location/city or country. The site will automatically detect your current location and plot it on the Google map. Better still, the app will let you fill up a web form mentioning your interests, whether you want an anonymous date or want to discuss some topic or want help from someone and so on.
When you have shared your current location with LikeOurselves.com, you can join groups and find online users from the same city. Once you find a profile, you can hit the "Hi" button and let the conversation begin. The site also features a simple group chat for strangers where multiple strangers or anonymous users can join and start a group chat or conversation. No videos or audio chat is allowed, the site is limited to text only.
LikeOurselves is available both as a desktop as well as a mobile app so you can chat with strangers from the same city while traveling, or when you are listening to a boring lecture in college.
Above all, users are not limited to chat with other users who belong to the same city. You can always enter a custom location and keyword combination in the search box and find online users from any city or country of the World. [ via ]
Nothing earth shaking but yes it's a good way to kill your time and who knows, you might end up meeting the same stranger twice !
Related: Plot Your Twitter friends on a Google Map