GTalk was a great success for Google. GTalk was such a great VoIP service that helped us to send free messages and even make free call. Today's GTalk is known as Google Hangouts or only Hangouts. You can make use of Hangouts from any mobile and PC platform i.e. Windows, Mac, Linux, Android etc. The web version is accessible from any platform. All you need is internet connection and a Google account.
Few months back, Google launched a Hangouts extension for Google Chrome, what was/is much helpful for everyone. By using Hangouts extension, you can easily connect with your friends right from your Chrome web browser.
However, the latest and good news is Google has launched dedicated Hangouts app for Windows and Chrome OS. That means, now you can access it without your browser. But, to install it, you need Chrome web browser. On the other hand, you must have Chrome to start it.
This Hangouts app runs through Chrome App Launcher, which was introduced more than 1.5 years ago. Anyway, Chrome OS was also launched but did not get much success like other platforms. Developers have been trying to make it more attractive. They have added several features. To enlarge the feature and available app list, Google has unveiled this great messaging tool for Chrome OS along with Windows.
Deep look into dedicated Hangouts app
Before using it, certainly, you need to install. Just head over to this link and install it.
After installing, click the Chrome App Launcher icon in your Taskbar and again click on Hangouts icon.
Then, you will get a synchronize icon in your right side. Just hit the Sign In link.
Therefore, you will have to sign in to your Chrome web browser using Google account. Just make sure that this is the actual account from what you want to use Hangouts.
After signing in, you will be greeted a window, something like the following.
Here you will have all your messages. Just toggle the tab to get all your contacts,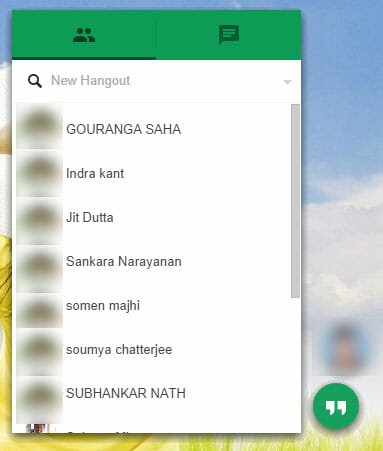 The most beautiful thing is you can send photo, use free hand drawing and emoji from the chat screen as usual.
Hope this new Hangouts app will help you to connect with your friends faster. You can also organize group chat. It seems promising since this is uncluttered.
What do you think about this?