How to Follow Hashtags on Instagram – Complete Guide
Do you love Instagram hashtags? Want to follow your favorite or trending hashtags but don't know how? This is because the feature wasn't even available until very recently. Yes, #Instagram, for some reason, didn't allow its 800 million strong monthly user base to follow hashtags. Strange. Twitter has allowed it for ages now, and so has Facebook.
Taking a cue, finally, Instagram, owned by the social media behemoth Facebook, has now rolled out a new feature that will allow its users to follow specific hashtags. You can now follow and subscribe to your favorite hashtags on Instagram to receive updates and top posts directly in your main feed. Let's find out how to do this.
How to follow hashtags on Instagram
The first thing you need to do is open the Instagram app or you may also open the site in your browser, but the option to follow hashtags is missing on the site.
For the purpose of this guide, we are using my Android phone. We are not sure why the "follow" button is missing in the browser considering that so many people also use the browser to go through their feeds. I know I do.

So let's fire the Instagram app on our mobile. There is a search icon at the bottom of your screen, click it. Since the La Liga Cup is in full swing, let's see what we have got going on for football. Type #laliga in the search bar and you will immediately see a pop up from Instagram notifying you of a new feature.
You can not only follow new hashtags, but you can also view what hashtags other people are following on Instagram in their profiles. This is a great way to find and discover new hashtags that are popular. Remember, if the profile is set to private, you cannot see this list. Use this feature wisely.
Click "Got It!" and proceed. When you search for a hashtag, you will notice 4 options to choose from: Top, People, Tags, and Places. Since we are trying to follow hashtags, make sure that you have selected the Tags option. This will give you even more related and relevant hashtags.
Click on #laliga and you will see all the stories and posts with the #laliga, and the total number of posts the hashtag has. You will also see a new blue button with the words "Follow".
Simply click on the follow button and you are done. Instead of the words "Follow", the button will now say "Following" and it will be greyed out. Go back to your main home feeds and scroll a little. You should now see feeds and updates with the #laliga.
Along with the updates, you will also see the name of the user who posted the hashtag, in case you want to connect or follow him/her.
Here is something that not many people know about. When you follow a hashtag, you will also see it in your stories timeline. You have to scroll a little bit but it should be there. This way, you can see the latest stories on the hashtag. Cool.
If you want to see a list of all the hashtags that you are following in your profile, simply visit your profile and click on the "Following" button.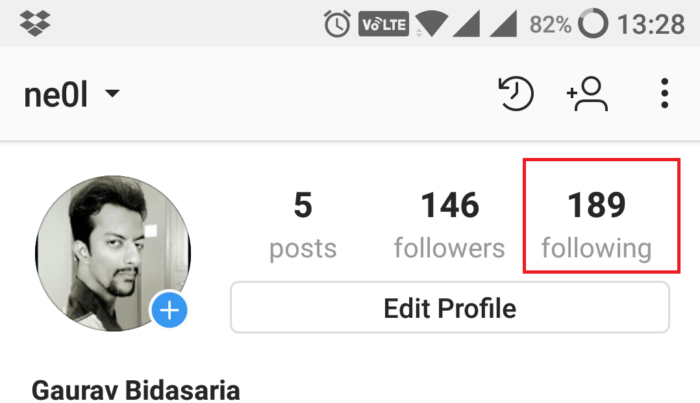 This will open a screen that will contain two options. The people you are following and the hashtags you are following. Click on Hashtag to see a list of all the hashtags you have subscribed to. You will also see a small list of related and popular hashtags to follow.
You can unfollow any hashtag you no longer want to follow by clicking on the greyed out "following" button. When you click on the button, you will get two options: Cancel and Unfollow. Click on the unfollow button.
There is no limit to the number of hashtags you can follow, however, following too many hashtags can bog down your feeds and slow your mobile Internet. I suggest you be choosey so that when you do check your Instagram feeds, you see feeds that you really want to see and not junk. People can be careless with their hashtags while marketers tend to use hashtags inappropriately to promote their products and services. Be selective with your hashtags, and have fun.