If you write a blog and use a lot of images in blog posts, you might have noticed thatsometimes the images appear non aligned, when you view your site's RSS feed in Google Reader, FeedDemon, Bloglines and other desktop or web based feed readers.
For example: The thumbnail image which appears to be right aligned in the actual post, appears left aligned while all the center aligned images appear to be left aligned as well. The style elements of images are also gone and you're also unable to set margin rules for images.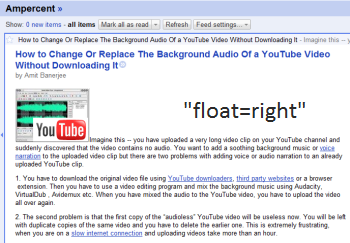 The problem is that these images appear fine in the original blog post but not in RSS readers. RSS reader apps like Google Reader and FeedDemon do not support stlesheets and the stle rule for images in RSS feeds just don't work at all.
If your blogging platform is WordPress.org, you can use a simple WordPress plugin to fix the image alignment problem – Align RSS Images
Once the plugin is installed, it will scan your RSS feed and ensure that the image is properly aligned, along with proper margin settings. This is very useful when you want the post images to appear in the same alignment as it appears in the original blog post. The plugin finds HTML elements with the WordPress classes and appends an appropriate style rule to each HTML element. This style is added dynamically when your RSS feed is generated and the it has no effect on the actual blog post.