Most of the computers available today are made up of Intel motherboards. Whether you have purchased the computer just a month ago or you are using the 5 year old desktop running an old Intel motherboard, chances are that your computer is running outdated drivers.
Majority of the users hardly bother running the latest drivers until they find that either the video, audio or display is causing problems and not behaving as it normally should. As an example – I upgraded my old desktop computer a few weeks ago, installed new RAM and added some more hard drive space. Then I installed Windows7 and discovered that the audio drivers which came with the original Intel motherboard CD were not supported in Windows7.
This is quite unusual because Windows7 does not need common audio, video and network drivers but in my case, installing the original drivers didn't worked.
There are different tools and programs available to scan your system for outdated drivers, then automatically download and install the latest version of Intel drivers to your pc. But here is an official web based tool from Intel which lets you scan your system for outdated drivers and lets you install the latest audio, video, network, wireless and chipset drivers on your computer
How To Update Your Intel Motherboard Drivers
1. To start, open up a web browser and go to the Intel driver update utility page. The tool detects which drivers are required by your operating system and then lets you install them quickly.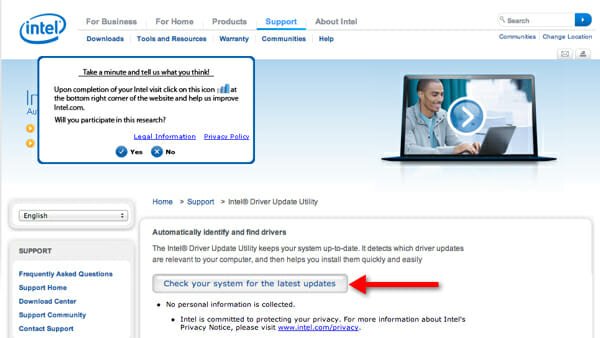 2. Hit the "check your system for latest updates" button and wait for the driver utility to analyze your computer. Before the analysis can begin, you have to download an Active X or Java plug in called Sysreqlab.cab, hit the "Run" button to continue.
3. When the scanning is complete, the tool will show the current driver status of your computer and whether or not your operating system is running an older version of intel drivers.
I ran the checks on my system and found out that this system needs an update to it's wireless and chipset drivers. You may further find out more details of any of the driver components, version number and the specifications of the currently installed driver of your system.
What methods do you use to update drivers of your computer? Share your tips and ideas in the comments below.