If you are familiar with Linux, you already know how easily applications can be installed on a system from command line with a working internet connection. Also you can activate multiple program installation in Linux from command line or terminal in Linux.
Chocolatey is an ultimate automation tool for Windows which brings the power of installing applications from command line interface in Windows just like apt-get of Debian/Linux. This global silent installer can do configuration tasks and installation of application and tools just like Powershell. With just a few keystrokes and you can have your program ready to use without opening a browser, downloading exe files and going through clicks after clicks.
The easiest way to install Chocolatey is from command line and the best part is that the installation requires no configuration. Open a command line, paste the following code and hit Enter.
@powershell -NoProfile -ExecutionPolicy unrestricted -Command "iex ((new-object net.webclient).DownloadString('http://bit.ly/psChocInstall'))" && SET PATH=%PATH%;%systemdrive%\chocolatey\bin
If you are a pro you can use other methods, see here.
Packages are made by Nuget packaging infrastructure and installed by Chocolatey. If you are a developer, you can make packages by Nuget and release them with Chocolatey.There are already 377 packages available and it is increasing day by day. Popular applications like VLC, Skype, 7zip and many more are already available in Chocolatey. Search their database if a package is ready or not by typing clist (program name) or you can see here.
To install you need to type cinst (program name) and hit Enter. You may need to go through a UAC warning if you are a Windows Seven user. But that's all; your program will be downloaded and installed automatically.
For example, when I installed adobe reader from Chocolatey, I typed cinst adobereader. Programs will show up in control panel in Windows, so to uninstall you need to do that from control panel.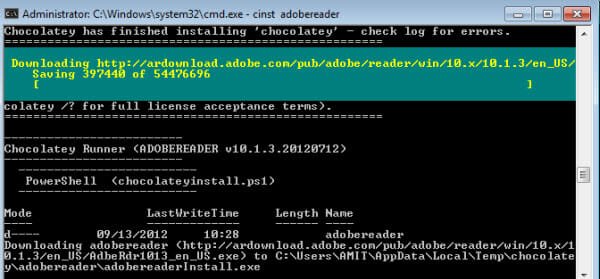 If you don't like Chocolatey, you can uninstall it by simply deleting the folder C:\Chocolatey and the environment variable ChocolateyInstall. To delete environment variable, right click on my computer, go to Advance system properties. You will find environment variables button, click it and delete ChocolateyInstall.
I installed quite a few programs from its database. I find no problem using Chocolatey. Since it's new, there aren't enough packages available in their repository. As time goes and it becomes popular; many new packages will be available in future.