KeepVid: Cross-Platform Tool to Download and Convert Video, Music, Subtitle
If you often try to download YouTube videos to your PC or mobile and convert them to .mp3, here is a useful tool that will let you do all those things within moments. KeepVid is a simple and free tool that allows users to download videos from different sites, convert them in other formats, find and download subtitle of different movies/TV show, etc. On the other hand, it lets you manage music on your PC. Learn more about this tool here.
KeepVid review: all-in-one video converter and downloader
Availability: As mentioned earlier, KeepVid offers a lot of functionalities via the desktop app, web app, and Android app. Talking about the desktop app, you can download it on Windows XP and later versions. If you are using Mac, you can still download the app and start using it accordingly. Although the official website doesn't say anything about the Mac version compatibility, you can use it on macOS High Sierra.
Talking about the available features, here is a list of essential things you should know about this tool.
Web version of KeepVid:
Video converter: It comes with a lot of options to convert an HD video in different formats. The best part is it shows some primary categories like HD video, SD video, etc. so that users can choose the format quickly.
Video downloader: If you want to download the video to your computer, this option is for you. However, you need to choose a site enlisted in this app.
Subtitle downloader: If you want to watch a foreign language movie, subtitle helps a lot, and this tool can let you download the subtitle very quickly.
Desktop version of KeepVid:
Video converter: If you are willing to use the free edition of KeepVid, you would have to happy with the video converter only. However, the advantage is you can convert videos in bulk and load videos from DVD as well.
Task Scheduler: It offers a task scheduler so that you can perform a task in automation.
Merge videos: If you have downloaded more than one videos and you want to merge them, this is possible as well.
Video editor: Not only just downloading videos, but also the editing is simple with this app. Although you cannot find a dedicated video editor like features, you can certainly add a professional touch to your raw video. The best part is you can add watermark and adjust the volume level. In other words, if you are a novice YouTuber, this is probably the best fastest option you can opt for.
KeepVid Music: Although this is a paid app, you can try it for free. It is a music management app compatible with iOS 5 or later and Android 2.2 or later. More specifically, you can manage your iTunes library with the help of this KeepVid Music app for Windows or Mac. It offers some toolkits as well. For instance, you can solve fundamental iTunes related problems with some functionalities such as Rebuild iTunes Library, Backup/Restore iTunes, Cleanup iTunes library, etc.
Burn CD/DVD: If you still use the old-school method, you can try out the Burn CD option to burn music to CD or DVD.
KeepVid for Android:
This app is probably the fastest way to download online videos to mobile. You can search for a video using particular keyword and download that accordingly.
Talking about the user interface, both of the apps have a neat and clean user interface. Although they are equipped with a lot of options, they are well categorised and hence, you cannot find any clutter while using.
How to use KeepVid for your benefit?
Experience is not required to use any of the tools mentioned in the list mentioned above. All you need is basic understanding of different files and options to start using this tool. Therefore, check out the following tips and tricks to get started with these tools.
KeepVid Free Online Video Converter
As said earlier, this tool will help you convert videos in different formats. More specifically, if you have a 4K video and you want to play it on an old Android mobile, you might not be able to do that because of various glitches. Or, let's assume that you want to reduce the size of a video without losing the quality. In that case, you can use this tool without taking another glance. The best part of this tool is you can use it from any operating system including mobile. The second useful feature is you select the output video format more accurately.
To start using this tool, open the KeepVid website, and switch to the Online Video Converter page if the homepage is not showing the same tool. Therefore, click on Choose File option and upload the video to the corresponding server.
In step 2, you need to select the file type, e.g. video, audio, HD video, SD video, Device etc. Based on your selection, the output format, in step 3, will be changed. Therefore, you need to select another output format from that drop-down menu as well.
At last, click on the Convert Now button and let it convert. Following that, you will get an option to enter your email ID in case you do not want to wait on the website. In that case, you will get an email notification whenever the conversion will be completed.
KeepVideo Free Online Video Downloader
If you are on a website like YouTube or DailyMotion and you want to download a video from that site. This KeepVideo Free Online Video Downloader tool will help you do that within moments. Not only that but also you can download the audio of that video. You can find just 128 kbps option in the free version whereas 256 kbps option is available with the pro account. Talking about the video download, you can download videos in 720p max. If you want to download it in 1080p or 4K resolution, you need to purchase the paid account.
To start using this tool, visit the KeepVid website, and enter the video URL that you want to download. Upon clicking the Download button, you will get the option to choose the quality of the video.
Therefore, follow the screen option to commence the download.
Free Download Subtitles using KeepVid
If you want to watch a movie in a foreign language, subtitle might be helpful if you do not want to get the dubbed version. KeepVid helps users download the subtitle of a film as well as TV shows. As per the official statement, you can download subtitle in more than 100 languages.
There are two ways to download the subtitle from a YouTube video.
First, you can copy the YouTube video link and paste it into the tool.
Second, you can search for a video using a keyword and download the subtitle accordingly.
Either way, you need to head over to the Subtitle Download page and enter a keyword or direct YouTube video link. If you enter the URL, you will directly get the option. Otherwise, you would be able to choose the video and download the subtitle respectively.
KeepVid Video Converter for Windows and Mac
If you do not want to use the web version, you can start using the KeepVid Video Converter app for converting and editing purpose. For conversion, you can choose various output formats for multiple videos. For example, you can select five videos at a time but five different output formats, resolutions, etc. for each video. However, the trial version may not do the job as described. For that, you need to purchase the paid edition. For editing, the restriction is same.
If you watch to try the free edition before purchasing, download and install it on either Mac or Windows PC. After opening a video, you would get all the options to convert it to another format.
If you want to edit the video first and then convert it, you can also click on the corresponding options to do that.
If you want to download a video from YouTube or any other site, you can do that as well. For that, you need copy the video URL > open the app & switch to Download tab > click on Paste URL button. In case you want to download the audio of that, you need click on the arrow sign visible next to Paste URL button and select Download MP3 button.
This tool comes with another feature called Editing. If you want to edit a video for YouTube or social media like Facebook, Twitter, Instagram etc. you can go to Edit tab, add the video and retouch it accordingly.
KeepVid Music Management App
If you use iTunes on your computer, this is probably the best tool to use to manage all the music effortlessly. Apart from that, it offers an option to download audio from various websites like YouTube, SoundCloud, Spotify, Vimeo etc. On the flip side, it provides some tools to rebuild iTunes library, move playlists to a USB drive, burn music to CD/DVD, clean up iTunes library, etc. Another essential feature is you can record video with this software.
To start using this tool, download the corresponding app, and install it. After opening, you should find a screen something like this-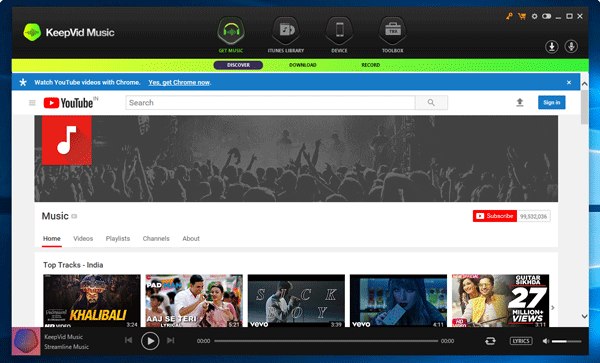 This particular page lets you copy the video URL from YouTube so that you can use it to download the audio.
KeepVid Android
Apart from having a great user interface, it offers some useful features. For that, you can download video, music, search for video directly, and do many more. Probably the best option is bulk download. However, this app is not available on Google Play Store, but the official website can provide the APK file.
After installation, you can find a UI like this-
From here, you can search for video, and click on the download icon to download that instantly.
Disadvantages of KeepVid tools
Apart from some pros, KeepVid tools come with some cons as well. While testing, we have got these problems.
Right after downloading the KeepVid Video Converter app, it started shows pending updates. The app didn't start until the update was installed.
The inbuilt browser is quite slow regarding opening next page or video. It failed to play some YouTube videos in 1080p flawlessly even when we had a 50mbps broadband connection. Not only the video page but also the app seems to be quite slow. However, it started working smoothly after opening it for 3-4 times.
The availability of the websites may not be sufficient for you. More specifically, you cannot just enter any URL and download the video. It offers some websites, and you have to choose a video from those sites.
The Subtitle downloader is helpful but not that much since you cannot find subtitle of a video that is not present on YouTube.
While using the KeepVid Free Online Video Converter app, we have got Conversion Failed error multiple times.
If you can ignore these small setbacks, you will get a great app with so many useful features.
Price: The KeepVid Pro edition costs $29.95/PC/year. However, you can get a Lifetime subscription for just $39.95/PC.