The social media giant, Facebook is having 1.32 billion monthly users (Source: Wikipedia) from all over the world. This is popular because users can connect with their friends without spending a dollar. All the options are free and too easy to use.
Although, Facebook has a barrier that limits the number of friends someone could have. You cannot add more than 5000 friends on Facebook. However, if you have only 200-300 active friends, pages and groups, the real problem begins. Your Facebook news feed will be covered with tons of notifications and useless posts by them. Although, some people use this news feed as a news source but most of the people are being repugnant for a cluttered news feed. That is when we unfollow random pages, friends and leave groups.
Generally, Facebook had the option to manage (i.e. unfollow, unfriend etc.) various friends, pages and groups. You had an option to unfollow or stop notification from any friend one by one. However, now, the whole scenario is changed. Facebook has rolled out a new feature to manage your news feed. You can get it on iOS and Android version of Facebook app.
Recommended: Declutter Your Facebook News Feed Without Unfriending Or Blocking Friends Permanently
In early days, it was much time consuming to manage and get clean news feed. However, now, update your Facebook app and get an option called Manage News Feed to do everything in a better way.
Facebook has included this option under Settings. Just tap on the Settings button on your Facebook app and scroll down. You will get Manage News Feed. After that, you have three options. First, Friend. Second, Pages and third is Groups. To unfollow or follow back any friend, just tap on the corresponding button.
Those, who are unfollowed by you, you can follow them back by tapping on Follow button. On the other hand, you can unfollow any irritating friend by tapping on Following button.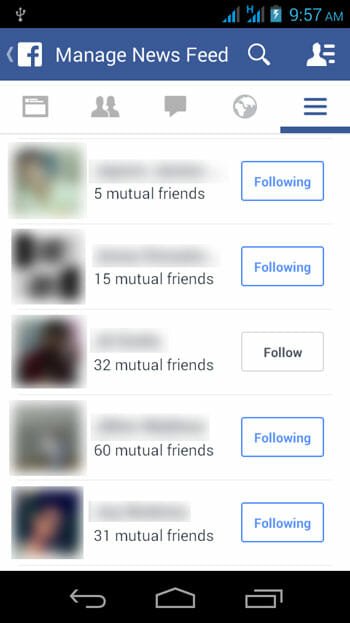 The same thing happens with Pages and Groups as well. If you select Groups, you will get the list of joined groups. Just do the same as Friends to leave from any group. Please note that, you cannot get the option that prevents other member of any group from re-adding you.
If you choose Pages, you will have a screen something like the following picture:
Just tap on Following button to unlink any page.
This new option is really working awesome since users had to use third party app to unlike pages faster.
Is this feature really great? Is it useful for you? Do let us know your opinion.