This morning while browsing around Facebook, a new image showing interface surfaced.  The new interface offers an all-in-one image editing and viewing experience. Here are few things that you can now do with the new theater viewing layout for Facebook images.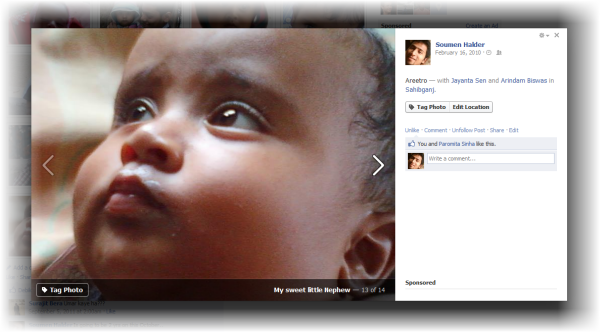 1. Adding Location: The new feature lets you add location to any image while viewing it, which was previously not possible after an image was already uploaded. You have to do it from the maps feature. But now you can alter the location of any of your uploaded images at time you choose directly from the image viewing screen.
2. Specify a date to show it on your timeline: Since the new timeline has launched and has constantly being promoted, you can add any image to your timeline from the timeline page of your profile. With the new theater mode you can add any image to your timeline right from the interface you are viewing it. That's neat.
Apart from these all the older features are still present there which are rotating images, tagging people or choosing them as your profile picture. The new change looks more tidy and the left to right positioning of the elements (comments, location, date, description etc) offers complete viewing without you needing to scroll down through the page.
It's hard to tell if the new layout is live for everyone but quite a few people have it already activated on their profile as far my connections go. Well my guess is this is still in beta phase and live for a few people only. Here's a sneak peek before you can try your hands on it.
Update: The new photoviewer is rolled out for all users.