Next SMS App for Android Designed by Microsoft
Though Microsoft is yet to prove its mettle in the smartphone world, I was surprised to stumble across this small little gem of an app a few days back. The next SMS app for Android has been designed by none other than the largest software manufacturer in the world, Microsoft.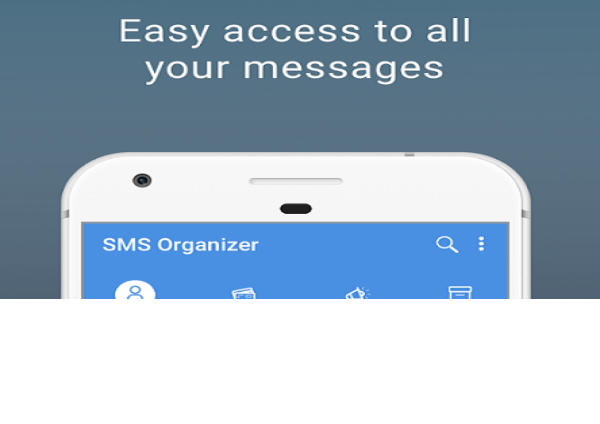 There are so many developers who claim to have developed the best free messaging app ever, but few come as close as the SMS Organizer. The name itself made me curious, I mean why use the word organizer? We are talking about messages and not files… or have they found a new way to store our messages? Interesting.
Apart from the default Android Messages app, several other apps became popular for being the next SMS app like Facebook Messenger, and even Truecaller, whose primary business model is identifying numbers and not texting.
While there are several feature-rich apps available on the PlayStore, I find minimalistic apps to be the best. More often than not, I don't even use half the features that come with these apps. Heck, I use Whatsapp more than I use my messaging app. But, there are times when you must send and receive texts. You just can't ignore them and they don't need the Internet to work.
Anyways, Here is a short, too the point review of SMS Organizer.
Download Link: Playstore Link / Microsoft Link
OTP is Cool in the Next SMS App
This is probably the feature why I love SMS Organizer and why it is, without a doubt, the next SMS app for your Android. So many sites, like eCommerce sites, banking sites, etc., require us to login using an OTP for additional security. When you receive an OTP, you need to type it because if you try and copy the OTP, the whole content of the SMS is copied. Not anymore. SMS Organizer will offer you an option to copy just the OTP through the notification bar. How cool it that? Google, take a hint!
You can also copy it by opening the message in the app.
You don't have to type your OTP ever again.
Integrate with Google Drive
Microsoft did the unbelievable here, atleast as far as I am concerned. Instead of going for their own cloud product, they offered Google Drive integration. You will be able to backup/restore your SMS either automatically every day/week or do it manually which is too troublesome.
Sort and Organize
This is another reason why SMS Organizer is the next SMS app for Android. It is named organizer for a reason because it can sort and organize. But, how?
The app will automatically sort your incoming SMS into different folders like Personal, Transactional, Promotional, Blocked, and Archived. Okay, the last one is not automatically. It's another folder where you can archive your messages.
The names of the folders are pretty self-explanatory. There is a folder for your financial and money related messages, one for messages from blocked contacts you don't want to contact with any longer, one for promotional messages that are only so annoying, and one where you can archive your messages.
Filter Future SMS
If the above feature that enabled me to sort and organize my messages on the go was not enough, Microsoft had another trick up its sleeve. If you long press a message, a new option will appear on the upper right corner pressing which, it will ask you to move the message to a particular folder with an added option "Move future messages".
If you select this option, all the messages from this particular sender will be sent to the selected folder in the future. This will save a lot of time moving messages around. It is like Gmail filters but only for messages.
Reminders
If only all messaging apps were this smart. Yes, I can't stop saying how awesome this app is. You just have to deal with me here. Anyways, the app will scan your SMS for due dates and upon finding one, it will automagically remind you to do the needful before the date is due. Smart reminders in the form of simple notifications.
You will regularly get reminders for travel, movies, cabs, banking, bills, and more depending on what kind of messages you get in your inbox.
You can also create a custom reminder for any SMS you receive. Add a small description, set a reminder by specifying date and time, and choose the SMS in question.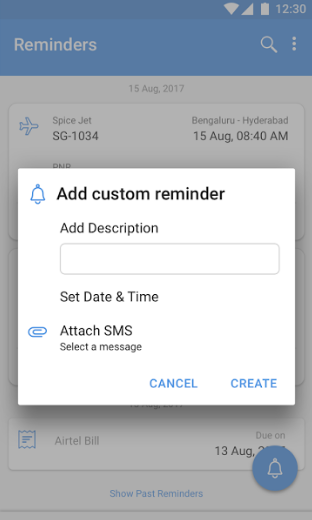 30 Free SMS a Month
I didn't even know about this feature until my friend, whom I recommended this app, pointed it out to me. Apparently, Microsoft will allow you to send 30 messages for free every month. How? Simple, it will use the Internet to send these messages. This also means that you can now send messages even if you don't have a cellular network. Pretty useful for emergencies, right?
I think Microsoft has come up with a very strong messaging app that will definitely change the way you see and use messages. This is the next SMS app for your Android device.