Night Light in Windows 10: How to Setup and How It Works
Undoubtedly, Windows 10 is a feature-rich operating system and much better than all the previous versions. You just name a function that you need in Windows 10, and you can find that on your machine. Microsoft has included a new feature in Windows 10 called Night Light. Here is how to setup Night Light in Windows 10 and how it works.
What is Night Light in Windows 10?
In simple words, Night Light is an alternative to Flux, which reduces the screen brightness and makes the screen warmth automatically. I hope you have got an idea if you have already used Flux on your machine. Therefore, if you are using Windows 10, there is no need to opt for that third-party software or any other alternative since Night Light settings in Windows 10 can let you get the same feature.
We need to use a lower brightness monitor so that we can work for a long time without eye strain. However, as we often forget to do so, we can alternatively opt for a tool that can reduce the screen brightness automatically at the predefined time.
How to setup Night Light in Windows 10?
Night Light in Windows 10 can be used in two different ways. First, you can manually turn on Night Light in Windows 10 and get the predefined warmth on your monitor. Second, you can set a time when your machine will turn on this feature and work further.
To activate Night Light in Windows 10, at first press Win + I to open Settings Panel. Therefore, go to System >> Display. On the right-hand side, you can find Night light under Color option.
Do not toggle the button to turn it on. Instead, set up the temperature or set a schedule. To do so, click on Night light settings option visible under the toggle button. On the next screen, you can find the option to set the temperature.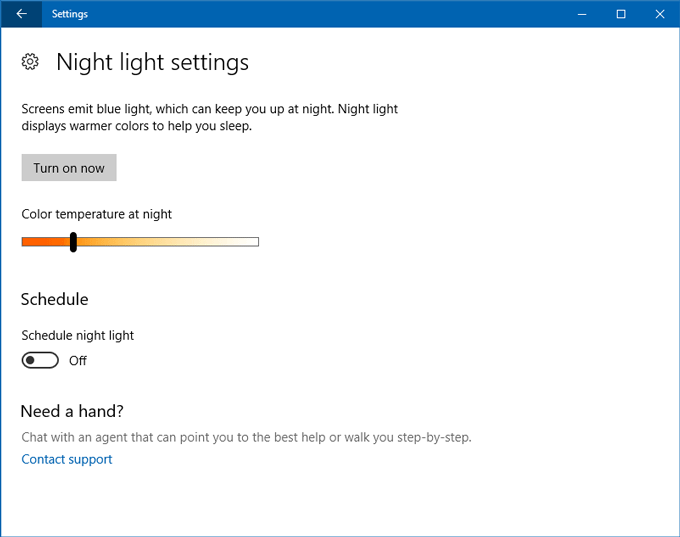 On the other hand, toggle the Schedule night light button and set a time span when it will be turned on automatically. You can choose Sunset to sunrise or set manual time. At last, go back, and hit the toggle button.
There are many people, who work on computers for more than 8 hours a day. This is a simple math calculation: If you work for 8 hours a day and 6 days a week, that means you work for 48 hours in a week. This is obviously not so good for everyone mainly when someone already has an eye problem. You must opt for ARC lens or reduce the screen brightness. However, we often forget to reduce the screen brightness, and as a result, many people get eye strain issue. Considering all the problems, Night Light Settings in Windows 10 seems to be an active function included by Microsoft.
Read More: How to Enable Night Mode on Windows and Mac without Any Software