OnePlus 2 vs OnePlus 3; Which is the Better Settlement?
The confusing question most of the gadget freaks are facing now is, 'should I go for the new OnePlus 3'? Or 'do I really settle down with the previous one'?
So today, I am going to walk you through the comparison, OnePlus 2 vs OnePlus 3 to get you an idea on what to choose and what not to.
All of us do know that the two variants are capable of handling any task thrown at it with ease. But in this comparison, we check for even a little edge of any product.
OnePlus 2 vs OnePlus 3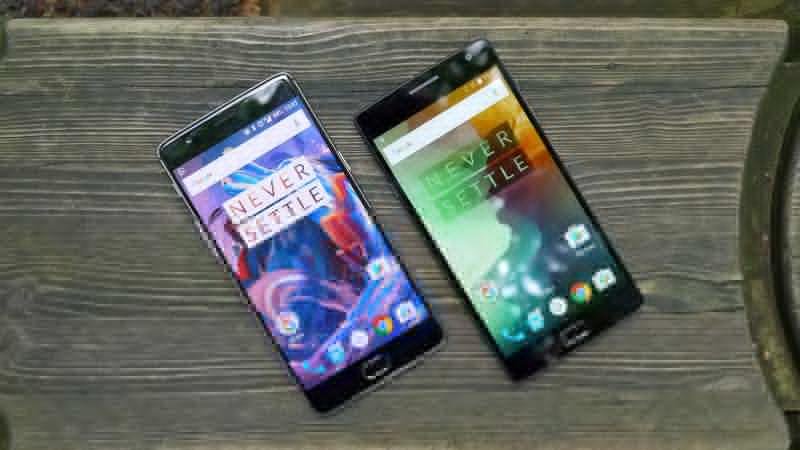 As always, I have divided this article into several sections for the reading convenience and quick navigation.
Build and Design
You won't find a major design revolution on the successor. But when you hold both the devices side by side, the first thing you would notice is the thickness. OnePlus 3 is 2.5 mm thinner than its predecessor, making it the best in portability.
The sandstone back in OnePlus 2 hasn't found a spot on OnePlus 3. But still, you can purchase back covers and personalize the phone as per your liking.
The position of the front camera has been interchanged on the two devices; from right to left. And, you may find the latest phone has obvious resemblances with the HTC One M9.
Winner: – OnePlus 3 (provided it is the thinnest), but this segment is more of subjective.
Display
The second and third generation flagships from OnePlus sport a 5.5 inch full HD resolution. If you take the pixel density into consideration, you can't see any differences there too. Both of them have 401 PPI.
But the side by side comparison between the two displays shows how vibrant and accurate the colors in OnePlus 3 are. It is because OnePlus 2 uses only an LCD panel whereas the successor has an AMOLED panel.
Winner: – OnePlus 3
Operating System
As you look into the operating system, the differences will not be noticeable. They two have Android Marshmallow with Oxygen OS on top of it. Every new feature OnePlus 3 gets will eventually become accessible to OnePlus 2 via software updates.
Winner: – Tie
Camera
With 16 MP rear and 8 MP front in place of OnePlus 2's 13 and 5 MP cameras, OnePlus 3 takes a lead here. With the good amount of details and quality, this year's OnePlus flagship is on the winning side. Both the rear camera lenses have f/2.0 aperture.
OnePlus 2 has laser autofocus whereas the third generation has phase detection autofocus. Both the features do the same job but in two different ways.
The rest of the features remain the same.
Winner: – OnePlus 3
Performance
Under the hood, OnePlus 2 has 1.82 GHz octa-core Snapdragon 810 chipset with 3 or 4 GB RAM (both the variants are available). But on the other hand, OnePlus 3 nails the competition with a 2.15 GHz quad-core Snapdragon 820 with 6 GB RAM.
Are you kidding me? Six GB RAM on a smartphone!!
Yes. But you can't victim an out-of-the-box performance upgrade, though. It is true that OnePlus 3 is better regarding performance. Not on a large scale and, you will experience memory management issues as well. Chances are OnePlus keeps some space on the RAM as unusable to improve the battery life.
It is worth mentioning that OnePlus 3 shows no sign of overheating.
You will not find any gaming issue on both the devices as the graphics is powered by Adreno 430 and 530 respectively. Apparently, you can see the dominance of OnePlus 3 here as well.
Winner: – OnePlus 3
Battery
OnePlus 2 comes with a 3300 mAh battery whereas OnePlus 3 has a 3000 mAh power source. The latter has fast charging capabilities; dash charging as the company calls it. You can charge the device up to 60% in merely 30 minutes.
The extra 300 amps in OnePlus 2 have no significant benefit, though. And, our testing revealed the battery life on both the devices are more of similar.
Winner:- OnePlus 3 (fast charging)
Other Features
The two devices have similar storage-64 GB- with no room for memory expansion. And, when it comes to connectivity OnePlus 3 takes a lead with NFC and Bluetooth 4.2 (as compared to no NFC and Bluetooth 4.1 on OP2).
Winner: – OnePlus 3
Final Verdict
If you are a person who wants to choose between OnePlus 2 and OnePlus 3, I recommend the later. But for an individual who is thinking about an upgrade, you will not get much in terms of performance, I would say.
But with NFC, better camera, and slimmer form factor, I can't help but announce One Plus 3 as the winner of the ultimate OnePlus battle.
If you like this comparison, don't forget to share the same with your friends.