This is the era of smartphones. There are many popular free games available in the market. Today, kids are smart enough to handle a smartphone and download these games to play. Though, the games are free, yet you have to make in-app purchases unlock some features and to buy some coins. There are also many applications available that supports in-app purchases. If you don't secure in-app purchases of your mobile, your kid can make any kind of purchases and at the end of the month you have to pay a large amount of your credit card bill.
To prevent in-app purchases in android and Windows phone you need to create an extra security layer with password protection. This secure, password protected prevents any kind of accidental in-app purchases.
In this article I'll show you how to prevent in-app purchases on Android and Windows 8.1 phones.
Prevent In-App Purchase on Android Mobiles/Tablets
There is a default option available to prevent in-app purchase on Android mobile. If you are using the latest version of Google Play Store, then you will be asked for authentication to make any purchases (but it requires configuration). However, there was an option to set a pin for in-app purchase in older version of Google play store.
To set protection for in-app purchase, just follow the steps below.
Open Google Play Store and go to 'Settings'.
Scroll down until you find the option 'Require authentication for purchases'. Select it and choose "For all purchases through Google Play on this device" option.
You will be asked for Google Password to make any kind of changes.
Prevent In-App Purchase on Windows Phone 8.1
The same in-app purchase protection service is available in Windows 8.1 mobile phones. You can protect any purchase from Windows store using this feature. Besides this, there is another useful option available in Windows phone which is named as Kid's Corner. If you choose Kid's corner mode, then your kids can only access their apps and games without accessing any other content of the phone.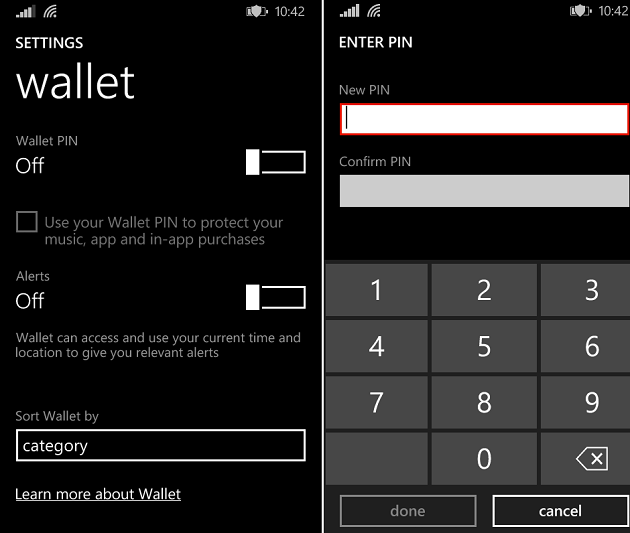 Visit Windows Store and go to 'Settings' option.
Tap on the PIN button, the 'Wallet setting' page opens up.
Enable Wallet PIN.
You will be asked to  enter a new pin.
That's it. This method will prevent any in-app purchase of Windows phone 8.1.