One of the problems a Macbook Pro user face is the lid close. The mac goes to sleep each time the lid is closed. Some might find it handy as energy saver, but it would be nice if the option was given to the user. Hardcore users find it annoying sometimes and even regular users who wish to download a large file, say through torrents, which might take the whole night to complete. It would be handy to have the control over this behaviour. NoSleep app for OS X does exactly that.
NoSleep is a simple OS X app that prevents the mac from going to sleep even after the lid is closed. It has a simple toggle button that resides on the menu bar and it allows the user to toggle states to enable or disable sleep on lid close. This will allow the user to choose whenever one wishes to prevent the mac from sleep on lid close with a simple click of the button.
One can also check the options available in the system preferences. It has a simple interface and also gives the user the choice for the app to load after booting. The app uses the last modified preferences set by the user.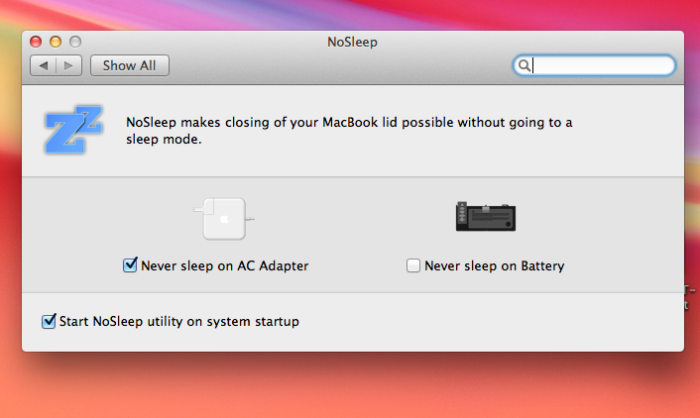 The advantage here is that while the screen goes off once the lid is closed, the mac keeps running to carry out the necessary downloads or any other operations. It is analogous to the Power Nap feature found in Macbook Airs and Macbook Pro with Retina Display, although while the power nap allows only updates or regular, NoSleep allows the mac to running as normally it would when its used.
Do remember that while it prevents the mac from sleeping off on lid close, NoSleep does not prevent the regular sleep that is set up in the Energy Saver preferences. To enable the mac from ever sleeping, one can go to the Energy Saver settings in the Systems Preferences (clicking on the battery icon in the menu bar and selecting the "Energy Saver Preferences" gets the same), and then either in "Battery" or "Power Adapter" tab, move the slider of "Computer Sleep" to the farthest right (right above "Never").
NoSleep consumes negligible amount of resources and is conveniently placed in the menu bar. It does not get in the way of daily use.
NoSleep for mac can be downloaded from here.
Sources: Google Code page [ via Lifehacker ]