TaskWorld: The Best Project Management Tool For Dynamic Teams And Projects
In a constantly shifting and evolving world of business, managing projects and tasks across teams is becoming harder by the day. No matter what tool you use, it always feels there could be something better which could help you achieve greater efficiency. You move your project management to the next application and this repeats in a few months. Your workflow is probably scattered across spreadsheets, to do lists, comment threads on JIRA, endless email threads and not to forget messaging platforms such as Slack, WhatsApp, SMS and maybe even Skype or Viber.
Thing is, with constant change in the way world works, human elements who are associated with a project evolve themselves to newer (often more complex and advanced) methods which turns the existing process obsolete or inefficient. With time, more team members, hierarchies, organisations, departments and even clusters of people get added to a project which makes the management chain even more complex, convoluted and difficult to maintain.
The central problem with project management tools that many of us face but fail to understand – most tools focus too much on the details and depth but not so much on the visual aspect that team members need. Employees, managers and anyone using a specific tool is probably exhausted by the number of different things they need to update on a regular basis. Often times, they don't need another complex tool in their workflow but a solution which offers visual directive on what's going on in the project, what is pending and what must be completed within a given deadline.
Taskworld is one such tool which makes project and task management visual
Getting Started with Taskworld
Getting started with Taskworld is extremely easy. Head over to the Taskworld website and sign up for a free account. The free trial is available for 15 days without requiring any commitment of payment from your side, so it's completely risk free trial.
Once you have created your free account with Taskworld, you begin by starting your first project. You can either choose to keep it private or you can make it public, thereby allowing other workspace members to access and use the project.
Next, you can choose a template for your project. Whether this is a single person project, a group project or a weekday project, a project that involves stakeholders form various departments or just a classical Kanban – you can choose that setting from this page. For small to mid sized teams, the Weekday project is perfect since it splits the workflow into all the working days of the week and then you can add tasks which needs to be accomplished by the end of each day.
If you are a freelancer or a design agency and need to maintain separate lists for each employee or team member, it would be good if you choose the "Single team" template. For projects which involves stakeholders from different departments of a large organisation, you can choose the "Department" template. There is no way to create a custom template yet but the default ones work just as fine and fits the bill.
Once the template is setup you can start adding tasks by each week day, each team member or each department, depending on the template you have chosen for your project.
For project management which involves agile software people who code, design, test and do all sorts of work related with programming, I highly recommend starting with the "Weekday" template and improvising as you move on.
So here is how your project dashboard will look like once you have stacked up tasks for each given day
Before you compare this with a Trello board, hold on. There are advanced components built in and this makes it much more functional than a Trello board or task cards.
For example, you can associate dates with each task and change the status of a project anytime, thereby allowing you and your team the control of knowing whether the project is paused, finished, pending or abandoned.
Team members can add comments to each task to start a discussion and all the comments can be moderated by the project owner. Lists can be copied to another day or exported in a CSV file, you can also upload and attach files to specific tasks and add links as well.
The best part – you can add checklist items to each individual task so the person who is executing the task needs to go through the checklist before he can mark it as complete. This ensures that the person who is given the responsibility to complete a task is actually going through the checklist and marking things on the project feed, thereby giving you a complete view of which task was finished and which ones are pending.
The timeline is the place where you can see all the tasks neatly arranged in timeline format. This is exceptionally beautiful and well thought, it adds to measuring the productivity of a team or group of people in a visual way. When you have lots of tasks running parallely and interlinked with each other, the timeline is the place to find out what is clogging the productivity of your team, which task is a blocker and which task is overdue for a lot of time.
Think of this as a GANTT chart for your team members which you can use to quickly check the status of each task over a pile of things which are currently being executed.
The Analytics page gives a brief as well as a detailed overview of the current status of your project. From this page, you will be able to know how many tasks are overdue to this day, how many were completed, what is the burnup rate and other important productivity metrics. The analytics page is exceptionally visual and gives a quick rundown of the status of your project with important numbers sprinkled in.
Coming to chat, do you use Slack a lot for messaging different team members and groups? It's the new trend in product and project management and it works well for many organisations. However, there is a slight discord when your organization is mid size or large since Slack is not a perfect project documentation tool, it's focus is messaging and real time communication over project organisation.
If you are looking for a project management tool with slack like messaging features, look no further than Task world. The built in "Project Chat" feature allows you to quickly IM team members, collaborators and anyone who is associated with the project. Sure, there is no way to create chat streams, channels and other IM specific features but the Project Chat tool gets the work done and packs Instant messaging into a robust project management application for your team, shooting two birds with one.
We used Task World's Project chat feature to mention other team members, attach files and perform real time communication with different team members and stake holders and the experience was really smooth and got the job done.
How is it Better Compared to Other Project Management Tools?
Now there are gazillions of project management tools out there so you would be curious to know how Taskworld is better than other project management tools in this space.
We compared Taskworld with two popular project management solutions – Trello and Asana. We also compared Taskworld with a project messaging app – Slack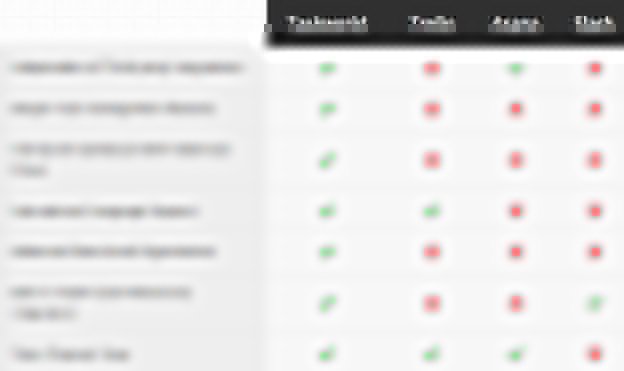 Taskworld Vs Trello
Here is how Taskworld compares with Trello.
Taskworld doesn't rely on integrations to offer an all-in-one solution. Trello relies on integrations for almost everything except boards. It adds unnecessary complexity to your daily work. Not only you have to figure out what combination to choose, the end result doesn't feel as seamless as an all-in-one app. Taskworld is all that your team needs to get work done. One app, that's it.
Every Taskworld plan comes with built in:
Visual boards
Team messaging
Time tracking
Project analytics
Calendar
Interactive dashboard
2. Taskworld offers deeper task management features. Trello's boards are designed for simple task management and lack features required for deeper collaboration. You can't assign checklist items separately, set recurring tasks or have tasks in multiple projects. Taskworld's task boards are a result of 10 years of fine tuning. You can not only use them as kanban cards but also for advanced task management. You can automate routine tasks and create tasks that are updated simultaneously in different projects. Checklist items can be assigned separately to each team member.
3. Trello lacks an interactive dashboard that tells you your priorities. Trello lacks a dashboard that pulls data across all projects and tells you what to focus on. A lot of time is lost by manually going inside each project and trying to understand priorities. Taskworld's interactive dashboard tells you the priorities of the day and gives you more time for meaningful work. You can even analyze workload of each member in your team.
4. Taskworld is a lot easier when it comes to organization and searching files. Trello allows you to attach files to tasks and search for them. However if you forget the name of the attachment or the board where it was attached, it can be a problem finding it. There is no centralized file management directory. Taskworld groups all the files related to a project in one secure space. It's like a magic bookshelf that arranges all the books in their right place.
Taskworld Vs Asana
Here is how Taskworld compares to Asana
1. Taskworld is designed for visual task management Using boards (cards with lists) for organization comes naturally to humans. Although Asana offers boards too, that's not the core aspect of the app. In Taskworld's case visual boards are at the heart of the app. This means Taskworld has perfected them over years of fine tuning. What might appear to be simple boards offer advanced task management options such as recurring tasks, tasks in multiple projects, multiple assignees and time tracking.
2. Taskworld has built in Team chat while Asana needs Slack integration. Unlike Asana Taskworld offers fully built in team chat Although Asana does offer task comments, it requires you to integrate with Slack in order to have a complete chat experience. Taskworld on the other hand has built in chat with all the features that you'd expect from a cutting edge team messaging app (direct messages, channels, chat heads, gifs, emojis etc.)
3. Taskworld's interactive dashboard has advanced filters Taskworld's interactive dashboard lets you extract information across all your projects. You can use a combination of filters to create your own report. By using the right filters, you can drill down and see all the tasks assigned to you by your manager that are overdue and marked important in the last 30 days. Asana relies on pre existing reports that can't be customized in such a detailed manner.
4. Asana is only available in English You can use Taskworld in 11 different languages – Taskworld speaks 11 international languages – English, French, German, Italian, Spanish, Korean, Japanese, Chinese, Thai, Portuguese and Bahasa Indonesia. So if you have a geographically diverse team, Taskworld should be the obvious choice.
TASKWORLD VS. SLACK
On the surface Taskworld and Slack are not really on the same space but they compliment each other. However, here are some areas where Taskworld is better and can replace Slack if you use it intelligently within your team.
1. Slack heavily relies on integrations Slack is a really good messaging app. But that's exactly what it is – team messaging app. It requires integration with a host of other apps (Trello, Asana etc.) in order to be used as a complete collaboration platform. Taskworld on the other hand offers all that you need to finish work with your team in one easy app (project management, timeline, messaging, analytics etc.). If someone only wants a team messaging platform then Taskworld can't outperform Slack. However if someone wants a complete collaboration tool for their team, Taskworld provides a more seamless experience.
2. Slack is only available in English You can use Taskworld in 11 different languages – English, French, German, Italian, Spanish, Korean, Japanese, Chinese, Thai, Portuguese and Bahasa Indonesia.
3. Messaging alone isn't enough to get work done On Taskworld you can assign tasks to people, keep track of their progress, get reports and measure performance. Every single task is recorded in the system. However if you simply ask someone to do something over Slack, it's easy for that task to fall through the cracks.
4. Slack lacks bird's eye view of team's progress Taskworld's interactive dashboard tells you the priorities of the day and gives you more time for meaningful work. You can even analyze workload of each member in your team. You can dig even specific information using advanced filters. For example by using the right filters, you can drill down and see all the tasks assigned to you by your manager that are overdue and marked important in the last 30 days.
Overall, we feel Taskworld is a full featured project management solution which omes with advanced analytics, built in messaging and tons of other great features which makes managing projects easy, seamless and straightens out the curved parts of team/project management. Unlike other project management applications, you don't need any third party integrations to start using Taskworld which makes it a standalone tool for keep track of projects, without any setup and integration challenges.