How to Recover Deleted Call Logs From iPhone Without Backup
Sometimes, you need to delete call logs or call history from your phone to avoid being caught that you talked with someone. It could be your spouse, someone you are dating, close friends or even your children. However, this can be an annoying experience when after deleting call logs from your iPhone, you remember that you forgot to save an important number to your contacts and now have to recover those deleted call logs from your iPhone.
Ideally, you would want to recover deleted call history on iPhone and then once you have recovered deleted call history data, you would want to save some information on your phone and then delete the history again. This also applies to SMS and text messages, sometimes you empty the SMS folder by mistake only to realize later that you want to find deleted messages on iPhone and restore a particular message because it was important. In that situation, you will need to recover accidentally deleted messages on iPhone.
There are more than one ways to achieve this and in this article we will discuss the most effortless and easy way to recover deleted call logs or deleted SMS messages from iPhone without having to backup any data from your phone or go through difficult processes and installations.
Here is how to recover deleted contacts from iPhone
Step 1: Install Dr Fone from App Store. You need to install it in your computer and not the phone. This is one of the best applications to restore deleted data on iPhone or iPad and the best thing is that it is completely free to use.
Step 2: Once you have installed Dr Fone, connect your iOS device with computer (you need to use the USB cable that comes with your iPhone to connect the device to your computer).
Step 3: After you have connected your phone to your computer, launch the application on your computer and you should see this window
Step 4: Click on "Recover" and you will see the following window
The application scans your phone for deleted data. It looks into the following and helps you recover them depending on your choices
Call history, call logs
Notes and attachments
Calendars and reminders
Whatsapp messages and attachments
Viber, Skype and other IM messenger chat logs
Photos
Voice memos
Voicemail
Image thumbnails
Application photos
Photos
Application documents
Videos
Step 5: Select the options and then click on "Start Scan". Once you start the scan, the application will scan your iPhone for deleted data, call logs, SMS messages and everything else
Step 6: Once the scan is finished, you will see the results like below
The Application will show both existing and deleted data on your phone. To see only deleted data, you need to select the filter "Only display the deleted items". Then the application will only show deleted call logs, sms messages, photos, videos and all other deleted files on your phone and give you options to recover them.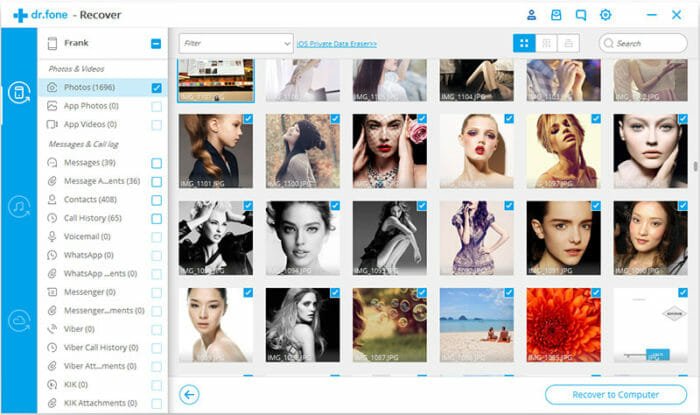 Step 7: Now depending on what you restore, simply select them from the scan result page and click on "Restore to device" or select "Recover to computer"
That's it, you have successfully recovered deleted call logs, call history, sms messages, photos and everything else on your iPhone device. If you are having troubles recovering lost data on iPhone, go through this tutorial from the developer of the application.
All in all, Dr Fone is one of the best free solutions out there to recover lost data on iPhone without having to buy a subscription or buy premium applications just for recovering a deleted call log or a deleted Whatsapp attachment. Give this a spin and let us know if you have any questions in the comments below.