iMyFone: Recover Lost Or Deleted Data from iOS Device
One of the most irritating things regarding owning an iOS device with less storage space is that you frequently run out of space and have to constantly remove unused apps, delete photos, delete junk files and lots of other unnecessary things to clean up space on iPhone or iOS device. It becomes really annoying when you have to do it everyday because neither you can upgrade the storage of your phone and nor you can live without these apps whom you use on a regular basis.
If you are like me and still own an iPhone with only 16 GB storage space, this is a huge problem. With apps like Watsapp which takes around 1GB of space alone, you can not settle with a device with so much less space not allowing you the peace of mind to use your phone without having to worry about running out of space every other day.
So what do we usually do to get over this problem? We use a file cleaning utility or application which cleans up junk files on a regular basis and frees up space on our iPhone. However, there is another problem with using Free apps for cleaning up your iPhone device.
The first problem is that you can not trust most of these free apps, since they may accidentally remove important files from your phone which may cause more problems in future. And once files are deleted during the clean up process, there is very little you can do to recover accidentally deleted files from your iOS device.
I have used a free application before to clean up junk files from my phone only to find that the free app did delete a lot of my photos, videos and other media files thinking they were junk and not important. How sad! I was not able to recover those files which the application deleted and from that day onwards I decided I am not going to trust any third party application which claims to delete files from my phone to improve it's performance.
iMyfone turned out to be an exception.
It is one of the best programs for iOS devices which let's you free up storage space on your phone and at the same time, it can backup important files on a regular basis, as well as recover accidentally deleted files from your phone all at the same time. In this review, we will see how iMyfone works and what value you will get out of it.
Basically, there are two products which are worth using –
iMyfone D Back – This one lets you recover lost data from your iOS device. It can be messages, photos, contacts, notes, Watsapp messages and media and everything else. You can use this on your iPhone, iPad, iPod touch and other iOS devices.
iMyfone Umate Pro – This one lets you erase data from your iOS devices and free up storage space, You can choose to securely delete data from your phone without having to worry whether this data can be recovered later. This includes photos, messages, call logs, videos, browsing history, Watsapp messages, chats and everything else (including application data)
First, we will talk about iMyfone D Back.
This tool let's you securely recover lost from from your iPhone without having to go through long steps and downloading or installing multiple apps one after another. iMyfone D Back will first try to find the most recent backup in your Itunes account or iCloud account and will try to restore it. However, before recovering the data or backing it up, it will provide you an option to choose from – whether you want to backup and restore only photos, text messages, contacts, call logs, browsing history, We chat messages, Whatsapp messages, Whatsapp contacts, Application downloads and so on.
If you do not have an iCloud backup handy at your disposal, fear not. iMyfone can also recover data straight from your iPhone's storage of SD card. It is upto you to choose whether you want to backup and restore from iTunes, iCloud or from your phone's storage. There are times when maybe an iTunes backup is outdated and you don't trust the online backup that much as much as you trust the restore functionality from your phone's SD card. In these situations, the backup and restore from your phone's SD card will come in really handy.
To restore lost data on your iOS device, plug in the phone in your Windows or MAC computer and run the application from your computer. The application will first detect your phone and then show you a list of items to choose before you "Scan" your device.
So if you want to backup and restore only photos, select "Photos" and click the "Scan" button. If you want to backup and restore everything, select all the options and click on "Scan"
Once you let iMyfone D back to finish the scan, the software will show you what it found. It will show you all the call logs, photos, SMS, Whatsapp messages, attachments, every single thing it found in your phone's SD card. If you do get a lot of spam messages every day (including telemarketing calls, SMS spam), those will be included as well.
I just ran this once in my computer and was surprised to see so many messages that could be recovered using iMyfone. I had no idea that all these messages were actually there in my phone's storage, eating up resources and slowing the device.
Depending on the amount of data that you are recovering, it might take some time. For me, it wook less than 15 minutes but if you are recovering for the very first time, it might take a while for the software to finish scanning your entire phone storage.
From the list of files, you can selectively choose to backup specific items and not everything (which is what I did). Once that's done, the software will restore deleted files in your phone and they will be stored in the exact location (folder) from where it was last deleted. The moment you unplug your device, those files are ready to be used (including applications and app data associated with applications).
All in all, iMyFone D Back is a really nifty utility to recover lost data or recover accidentally deleted data on your iPhone, iPad or any other iOS device. There is a free version available to try but if you are really serious about data security and backing up stuff from your phone, I suggest you buy a license for $49. It is really worth the money since you can be completely assured that all of your data has been recovered and nothing was left behind by accident.
The next product which caught our attention is iMyFone Umate Pro – the ultimate data eraser for iPhone.
If you are always worried about low space in your phone and have to constantly delete temporary files, junk files, useless images and videos from your phone all the time, then this is the utility you need. Again, if you want to permanently delete files form your iOS device with no possibility of recovering it later – this is the application you need.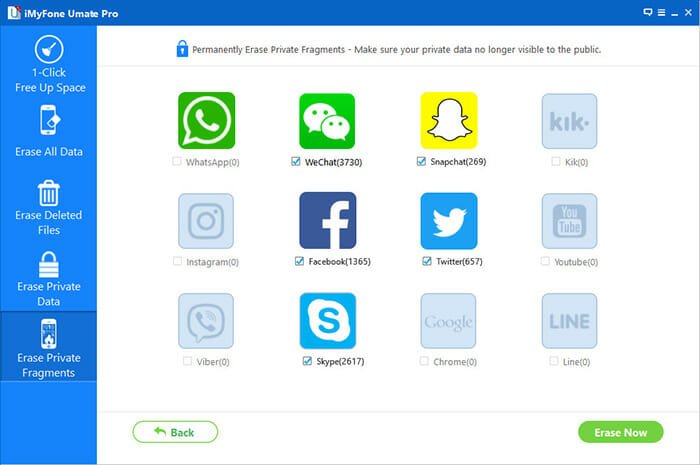 Download and Install iMyFone Umate Pro in your Windows or MAC computer and plug your phone or iOS device. The tool will auto detect your device and will show you a quick preview of how much space junk files are occupying in your device. There is a very neat One click Free Up Space option available which let's you quickly free up space from your device without having to go through all the preferences. If you want to go through preferences before deleting the data or freeing up space, you can do that as well.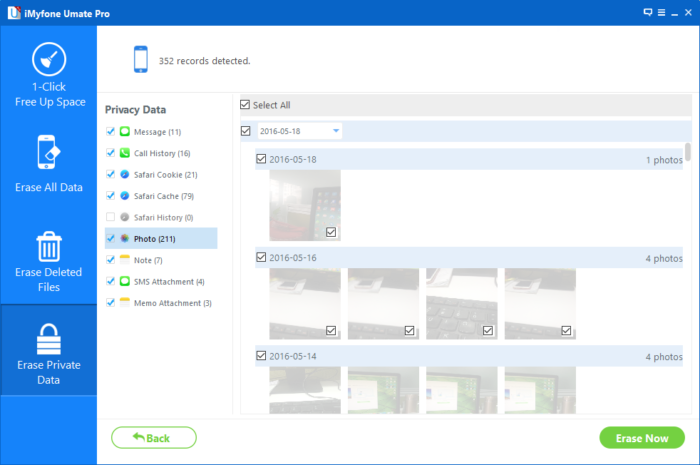 Here is the thing which is unique about iMyFone Umate. Before deleting all the junk files, temporary data and other unnecesary things, you can actually look what type of data it is. Is it a browser cookie, a temporary file, a system generated file, photos, SMS, attachments – you name it. You can see the file type, location and the type of file before deleting them in bulk.
You can choose to delete everything in one go or specifically select each file or folder and then free up space on your iPhone or iOS device. This works pretty well and I would anyday prefer a premium solution which securely and permanently deletes files I no longer need, compared to free software which gets the job done but you never know about the security and availability of those files later on.
To wrap up. iMyFone Umate is one of the best space saver apps for iPhone which you can use to securely delete unwanted files from your device. it is available for $19 for a lifetime license and trust me, this is well worth your one time investment, if you are serious about keeping your device in a healthy shape.