How many times in day do you check Facebook? You do not have answer that, we know that already. I'm no exception to that rule. And every time I do that, I freak out watching a baby or a kitty picture in my news feed staring innocently. I'm no baby hater, on the contrary, I believe babies are adorable as you get to play with them, cuddle them. They can make a gloomy day the best one. However, it's annoying to keep looking at some random baby pic cluttering your already populated news feed. Give me one chance and I'll happily replace them or the people who shares nothing but those stupid cutey pics. And if you detest those as much as I do, this is your lucky day.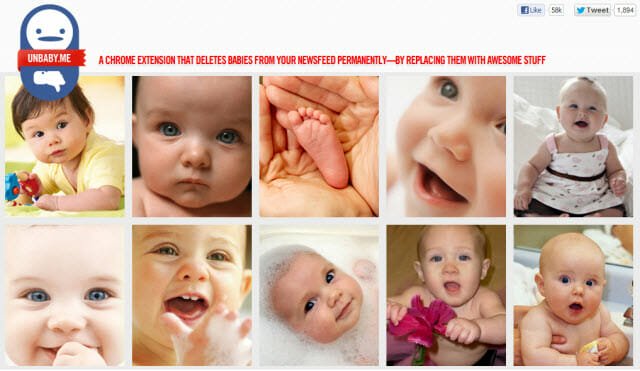 Unbaby.me is a Chrome extension that replaces baby images on Facebook with something more enjoyable. It can any street photograph, a model or even a cat (sorry but you have to bear it, personally I do not find that adorable either). Planned out a joke during an evening (with drinks) by three New York based employees of an advertising company named Yvonne Cheng, Chris Baker and Pete Marquis, this tiny app can really be a way out of this misery.
Related Reading: Clean Up Your Facebook Timeline Using Facebook Activity Log
Installing this extension will start a script in the background which will replace images of babies based on associated keywords like "first walk", "cute", "adorable" etc. You can also add your own keywords to filter the images. This would've been perfect (for me) only had they planned for replacing the cat pics too. Getting rid of babies is also a good start, all the same. The tool does the job as publicized but it replaces other images now and then so be precise while setting up other keywords.
The developers just like me has clarified that use of this addon does not inspire or promote the idea of hating the babies themselves. And in any case, who's gonna hate those cuddly little crawling innocent fumblers, they are lovable and adorable perpetually.