Starting college? Textbooks are sure to burn a hole in your pocket. Now if you are a bookworm and hardly have time for all the earthly pleasures associated with college, go ahead and fill racks with all the books you can afford to buy. However if you are planning to control your budget a little wisely, here is a nifty startup that can help you.
Rent My Text, a service based in India, allows you to rent college textbooks for as low as 20% of the MRP for a whole semester. The idea isn't just economic but also serves a great deal in being an eco-friendly option as fewer printing demands will only facilitate conservation of forests. In a growing economy like India, budget-friendly options are not just a necessity but more of an exigence at times.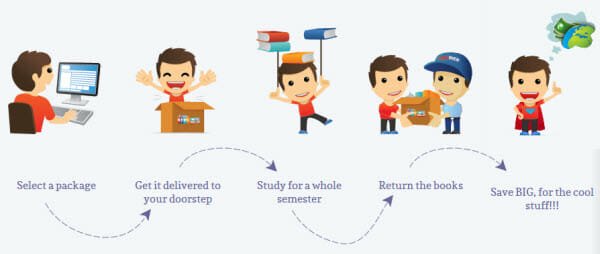 You subscribe with an one-time fee, a little hefty at first look, but sounds like a good bang for your buck once you consider the benefits you enjoy with it. You can rent 8 books at one time with 1 book per subject. Apart from custom book orders, the new service also offers packages that include books recommended by VTU(Visvesvaraya Technological University). Currently the service is only renting books(semester I and II) across Karnataka.
Be advised that the company has strict damage policies to ensure proper handling of the books. However, as I spoke to them, they were pretty enthusiastic about the number of people who handled the rented books as intended. Only 15% of the rented books were reported to be damaged.
Lending books from senior students is nothing new to college goers. However the unavailability, updation and condition of the used books were a major concern. With Rent my text, that is sure to change, although, with a little price. Considering the competition and demand the service has good chance of succeeding as they extend their service across the country.