Samsung Unveils Galaxy View – The Biggest Android Tablet Ever
This Year iPad Pro changed the way we look at the size of a tablet. It does not fit into our hands anymore. With 12.9 inch retina display, this year iPad Pro is biggest tablet ever made by Apple. After that Microsoft announced Surface Pro with 12.3 inch screen, but it's not looked weird because the company promoting that device as " a tablet that replaces your laptop". Now it's Samsung's turn.
The Korean tech giant unveiled Galaxy View, with 18.4 inch display as an answer to its competitors. It is the biggest device with Android on the market right now. Its almost like a mini television.
Let's take a first look at the device.
Dimensions and Display
This tablet is made of durable plastic material with curved edges and handles your everyday use at home. It gives great experience and stands up your rough usage. This device comes with 451.8mm length, 275.8mm width and 11.9mm thickness. This device has 18.4 in 1080p Full HD display. It weights around 2.65kgs and has built in stereo speakers.
Looks great, but what are we going to use it for? While releasing iPad Pro, remember how Apple marketed the device? For handling multi media well. Apparently this device also serves the same purpose, it has got preloaded with bunch of media apps such as YouTube, Twitch, Netflix, Hulu, CNN, etc.
What's Inside?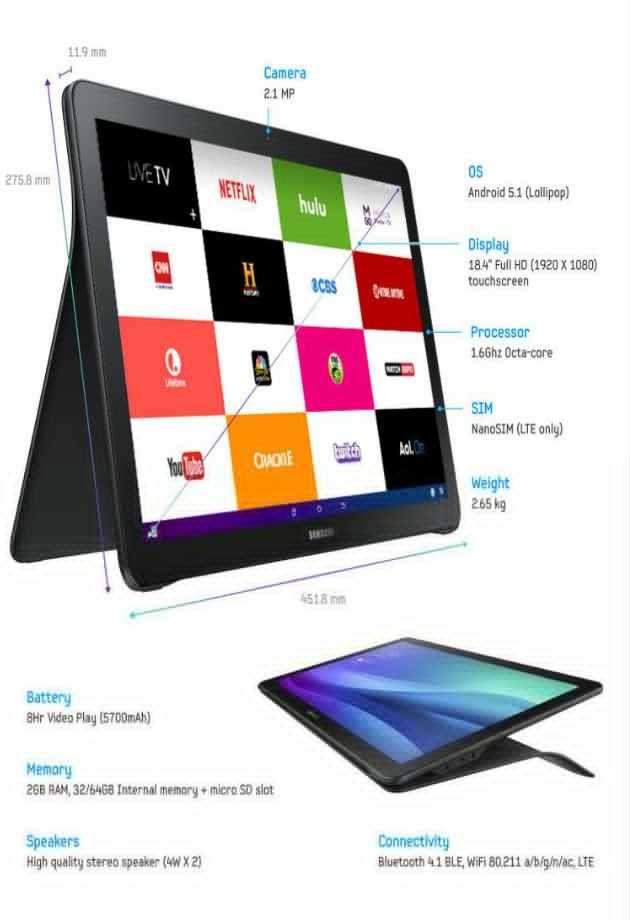 It has 1.6GHz octa core processor and comes with 2GB RAM 32GB/64GB flash storage with micro SD card slot and runs Android operating system. You can do bunch of activities in this device like watching movies, videos and other multi media content along with normal tasks such as browsing etc.
This device has bluetooth v4.1 and supports WiFi a/b/g/n/ac. There is also a nano SIM slot for LTE connectivity.
This handles this heavy usage well and one would expect that no lag would be experienced while using this device.
This device has 2.1MP camera at front, suitable for video calling. It has 5700mAh battery which would last for 8hrs of video playback, as claimed by the company.
Do you really need this device?
Well, that depends on your needs and how you define a "tablet" should be. Even though it has massive HD display and multimedia experience will be quite great, it is not portable. For some people, it would be hard to carry this device. Because size is the most important form factor for a tablet device. But if you are okay with this size and its other features, you can definitely give this a try.