Unlike Gmail or Yahoo, Facebook doesn't allow you to save chats in your account. This can be awkward if you are in need of some information left in a past conversation with someone on Facebook.
There are desktop clients like Digsby and Chitchat which can save Facebook chat history but if you are looking for a browser based solution, try Facebook chat history manager. It's a Firefox add-on which saves all Facebook chats in your computer for future reading.
Following are the steps to configure the add-on for saving Facebook chats in your computer:
1. After the add-on is installed, go to Tools and select "Get Facebook ID".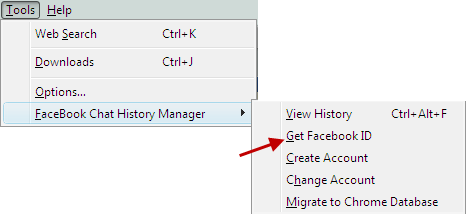 2. This will open up the browser and you will be asked to Login to your Facebook account. After successful login, grant the application access to your account and you will be shown your Facebook account ID.
3. Now go to Tools > Facebook Chat history Manager and select "Create a new account". This account will be created locally on your computer to save Facebook chats.
4. Enter the Facebook account ID which you obtained from step 2 and choose a password. This password need not be same with the password of your Facebook account.
5. You are all done with the setup. Whenever you want to see your past chat conversations, hit Ctrl + Alt + F and this will open the Facebook chat history window. Enter the Facebook account ID and password and you can see all the past Facebook chat records.
The left column shows the names of all your friends with whom you chat frequently. Clicking a friends name opens all the past chat records in the main column. The chats can be filtered according to date, year, month or week.
The interesting thing about the add-on is that the chats are password protected and thus you can install it on shared computers and still retain privacy. However, there are no options to download the chat records as a text file.