Managing your Gmail or Google Apps contact list gets a bit tricky when your clients or colleagues create new email addresses or aliases. Another problem is when your friend sends you a lot of email addresses that are not present in your Gmail contact book or when you are exporting the email addresses of your Facebook friends.
You have to manually add the new email addresses to your Gmail contacts but here is a simple way to automate the process.
WriteThatName is a simple web application which scans email signatures for any possible email address and adds them to your Gmail contact list automatically.
It works something like this – say John's contact information and email address (johnsmith@gmail.com) is saved on your Gmail address book but John has recently shifted to a new company and hence his working email address has changed. John is clever, as he has linked multiple Gmail and Google Apps accounts but all his incoming emails has a new email address in the signature line.
So how do you add this new email address (the one that appears in the email signature) to your Gmail address book without doing it manually for each and every client or incoming contact ? Here are the steps:
1. Go to WriteThatname website and sign up for a free account (available for the first 30 days only).
2. During signup, the app will ask you to grant all the required permissions to access your Gmail or Google Apps account. Select the checkbox "Remember this approval" and click "Allow", as shown below: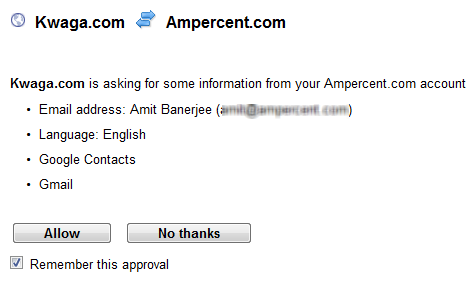 3. Now select whether you want the app to work on Autopilot or manual mode, I would prefer the second one because I don't want my address book to get filled with spam email addresses, a dozen of them hit my inbox every other day.
3. From now on, as soon as you receive an email, the service will recognize the email signature and semantically extract contact information and any new email address embedded inside the message. The extracted email message will be automatically added as a new contact in your existing Gmail contact list.
The app has a manual mode which can be used to manually check whether an email address is present in your Gmail contact list. If not, you can either click the panic button to add the email address or choose to ignore it.
Writethatname is free for the first 30 days but after the trial period, you have to pay $3 a month or $20 a year for each Gmail or Google Apps account used with the service.
Also read: How to share email attachments with anyone