There are several ways to schedule tweets to your Twitter account, so your tweets will be posted to your Twitter profile even if you are not connected to the internet.
But tools for scheduling status updates to Facebook are pretty limited and most of us are not aware of them. So here is a list of some very useful utilities and clients that allow users to update and schedule their Facebook's status, share links and send information automatically.
Greeting Scheduler: Schedule Status Updates On Facebook Profile or Friend's Wall
It is a dedicated Facebook app that schedule Facebook updates in a different way, the service not only schedules Facebook status updates of a user but it also allow users to post the scheduled updates on the walls of their Facebook friends.
So if you are one of those who forget things often and don't want to miss the opportunity of wishing your friends and family happy birthday or other stuff on Facebook, this is a perfect app for you.
How to use Greeting Scheduler?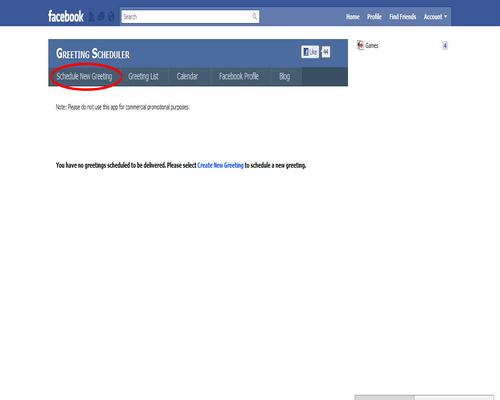 Here is what you need to do in-order to use this app:
First, select the friends from your list to whom you want the message to be posted to.
If you want to schedule update to your Facebook profile, then select your wall
Schedule the date and time of the update
After date and time, enter the status update or message that you want to schedule before proceeding to the next step
After that you can select whether you want to share or post an elaborate message with detailed text formatting or you just want to share a simple link
Posting a link using Greeting Scheduler is very much similar to what you see when you post a link from Facebook itself.
LaterBro
This particular web app allow users to update and schedule their Facebook and Twitter status simultaneously, the app does exactly what it claims to do in a simply yet effective manner.
Although there is a limit on the number of characters per update and schedule, for Facebook the app allow users to have an update of almost 420 characters while for the Twitter the status update is limited to only 120 characters. Users can include links to their updates but the provision for adding images is not there, plus LaterBro also has a native URL shortener.