Diwali or Deepavli, is the most popular festival among Indians.
Diwali signifies the triumph of good over evil and people celebrate this day by lighting diyas, firing crackers and sending gifts to near and dear ones. While staying with your family during the Diwali season is a usual practice, not all souls are lucky and as blessed. A lot of you have to stay out of station due to work reasons and it feels really bad to miss your family and friends on the eve of Diwali.
The situation is worse for non resident Indians, who work for U.S or U.K companies and have to stay out of country during the entire festival season. The usual workaround to send Diwali greetings is either Facebook or Email but if you are a little geeky, here is a much better alternative.
Light a Virtual Diya This Diwali – Send Diwali Greetings Using Google Maps
Light A Diya is an impressive Google Maps mash up which allows you to light a virtual diya over any address at Google Maps. You can use this web application to light a virtual diya at any physical address and send your Diwali greetings and best wishes via email message or on Facebook. Everything is free, no strings attached.
To get started, head over to the website and register for an account (you can also use your Facebook account for logging in instantly). Go to the Light a Diya page and zoom into any address at the world map (e.g Chandni Chowk, New Delhi).
Once you have zoomed into the address of your friend, click "Light a Diya" and a virtual diya should show up. Now all you have to do is drag the diya across the map and place it over at your desired location.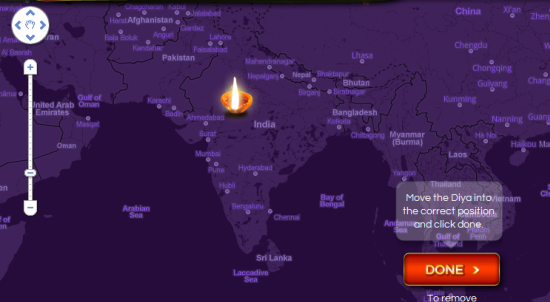 You can send as many Diwali greetings as you want, the only catch is that you can light a maximum of one diya per address. Next click "Done" and type in your Diwali greetings and enter the email address of your friend whom you want to send your Diwali wishes. Click "Send" and you friend will receive your personalized diwali greeting at his email address.
Here is a preview:
This is really one of the unique ways to send Diwali wishes to your distant relatives and friends living back in India. In my opinion, this is certainly better than those ecards and virtual greeting card sites, which are generally loaded with auto-playing music and distracting elements.  A geek's choice!
Here is wishing a very auspicious and happy Diwali to all our readers in India and abroad. Let the beauty of lights fill your home and hearts with sheer happiness!