Cloud adds lots of essential functionality for daily computing, and lately there's a surge in users adopting cloud. Anything that's popular and commands a burgeoning users gets prone to security threats sooner or later. Hackers have already jumped in to take advantage of the shortfalls of cloud based applications. Reports of phishing, hacking and malware attacks are coming in daily. To ensure better protection web companies have adopted added layers of security along with the conventional username and password combination.
Examples of the second layer of secured access are Google Accounts which has long enabled the 2-step verification and Facebook that also uses similar protection. Dropbox, the pioneers in cloud storage industry, lacked this till date. However, according to a forum post they have been testing this beta feature lately. Let's walk you though the simple steps to set up Dropbox 2-step verification for your account.
Related Reading: How To Setup Facebook Login Approvals For A More Secured Facebook Experience
1. To use the 2-step verification feature you will need to use the latest forum build. You can get that by following the Dropbox forum link supplied earlier.
2. Install the app and follow this link to the Dropbox website where you may need to login to your account.
3. Once the page is loaded scroll down to the bottom of the page and under the section Account Sign in, you'll find a link to change the status of Dropbox Two-step verification. Click that.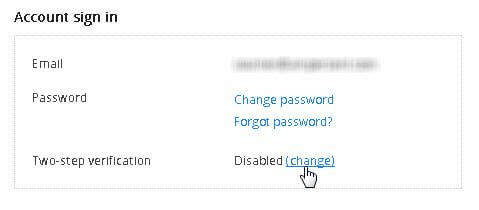 4. Now you will be presented with the following steps to get started with the 2-step verification.
There are currently two ways you can authenticate your devices your account.
1. Via SMS: A unique code will sent to a number(you own) you provide. Enter it on the website to verify the number and from the next time you will be needing this to link a device or access your account.
2. QR Code or Secret Key: Use this option to get a QR code or a secret key to access your account.
Both of this will need you to enter a secret 6 digit code to verify the mobile device is set up successfully.
Once this procedure is tested bug free the security feature will be rolled out for all Dropbox users. Hopefully this will bring the much needed protection that will gurantee the safe keeping of users storage and privacy.