Say you want to know how to make French fries or tie a scarf in a stylish way or maybe you want to fix your slow iPhone. Whatever be the problem we Google it. Now, instead of searching Google and read thousands of words and finding a proper solution, you can go to Snapguide and be amazed at the collection of solutions to diverse problems. Snapguide, a free web service and iOs app, contains a lot of simple visual step-by-step how to guides across various domains. Ranging from art to technology, discover new things about food, drinks, lifestyle and more. Also share your own expertise with others easily.

First thing that you will notice about this service is the look and feel it gives you while learning. Internet is crowded with how-to guides, and the main problem about those guides is the way it is conveying complex instructional information. People love details, but too much detail brings boringness to an article. That's where Snapguide is different. A picture or a short video always make critical and complex instructions stunningly simple. People learn better from seeing how something is done rather from reading how it should be done. The app and web service is well designed and guides are in well-organized manner like most recent, most popular, what is happening etc.
 You can install Snapguide app on your iPhone, iPod touch or iPad which comes for free. For other devices, you can enjoy the web service. Sadly, guides can only be made from an iOS device. Creating a guide is very easy. Log in to the app (you can use your Facebook account), give title, take snaps, capture videos, add caption, do some simple editing(if needed) and publish it with a single tap. Everything is handled extremely well within the app so that anyone can make a guide without having any hiccups. If you have iPhone 4S, you can enjoy the Dictation integration facility so if you are explaining something lengthy, save your energy by adding captions to your steps by speaking them. After publishing to the Snapguide community other users can comment on it or follow you for more updates from you. You can send your guide to someone via email or share via Facebook, Twitter or copy links to share to other sites too.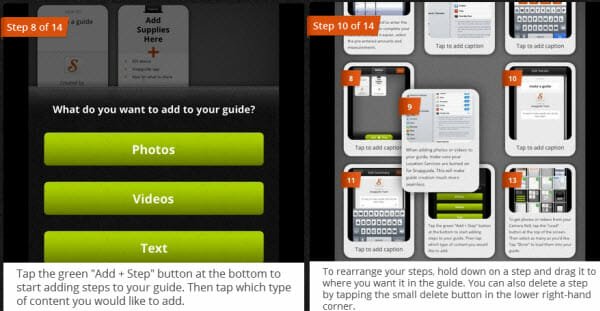 Snapguide is definitely an eye catcher because the interface is simple, the layout is good, it's free, it has a good amount of users and guides and has recently integrated Pinterest also. It's a great place for learning new things and spreading helpful information. A must-have app for any tinkerer.