Snooze Unwanted Tabs in Chrome and Restore them later
We often open many tabs in Chrome while surfing and end up with clutter being created. We even confuse to find the tab we want among many opened tabs. We need only a few tabs among the opened tabs. Have you ever thought of hiding those unwanted tabs in Chrome for particular time and restore them when you want? You can do that and this article will let you know how to do that.
Tab Snooze extension for Google Chrome allows you to Snooze tabs for the time you specified and restore them automatically later. It even reminds you about the tabs to snooze that you have not used for a while and notifies you about the return of the Snoozed tabs in Chrome.
Download and Install Tab Snooze in Google Chrome
You can install Tab Snooze from the Chrome Web Store for free. It gives you the following confirmation message and a tour on how to use it once you are done with the installation.
Later, you need to sing up with your name and email to use it's services.
This is how it works
Once you are done with the installation, you can see the half moon icon on the top right corner of your Chrome browser. Click on that icon, and it shows the available options in a gird view. It shows something like, In a month, Tomorrow Eve, Next Weekend and some more options to set your preferences like Later Today, Someday and much more. Set the preferences by clicking on the settings button at the bottom.
It opens up the Options pages where you can set the definitions for Weekday and Weekends. You can specify when your Weekday and Weekend starts so that that tab will be snoozed as per your set weekdays or weekends. You can even define the time for Later Today and Some Day.
Recommended: 10 Best Google Chrome Tips and Tricks
You can even see some General Options as showing the count of snoozed tabs count badge, playing a sound when snoozed tabs get opened and closing the tabs automatically after snoozing. They are enabled by default and can disable them if you do not want them to be active.
At the bottom, it shows the keyboard shortcuts to perform actions. For example, you can use shortcut "Alt + S" to snooze the active tab and much more. You can customize them by entering "chrome://extensions/" in the address bar and hit enter. Click on the "Keyboard Shortcuts" link and give your keyboard shortcuts.
It also shows icons on the left side to create to-do, view snooze history and much more. You can click on the respective icons to view them.
Now, to snooze a particular tab, open that tab and click on the snooze icon. Click on the "Later Today" option and it snoozes the tab. This tab will be snoozed till the time you have specified in "Later Today."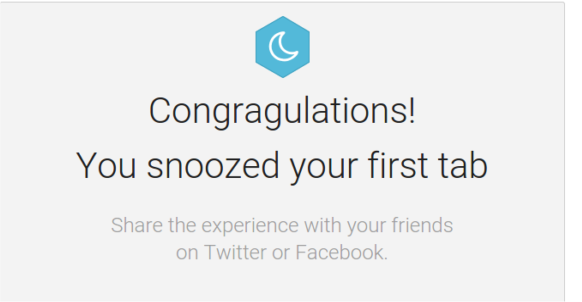 It gives the success message for the first snooze. You can see the list of snoozed tabs in the Snoozed List. You can see them through Snoozed History option.
It shows till what time that particular tab was snoozed.Here one tab was snoozed till 10:04 PM. It notifies me when the tab gets restored after the completion of snoozing time, and this is how it looks like.
Conclusion
Apart from using the Tab Snooze for snoozing tabs for a while, it allows you to use tabs as a to-do list. Have you used the Tab Snooze or any other services for this purpose before? Please, do share your experience and thoughts with us through comments.