Do you know when you press Ctril+C on your Windows based PC to copy any line of text, URL, image or file/folder, where does it go? It gets temporarily stored in something called Windows Clipboard. Over the years this clipboard has served as the temporary resting place of any material which users Ctrl+C and later paste (Ctril+V) to another location.
Over the years, the one limitation of Windows clipboard which has not been overcome is that it can only store one item at a single point in time. This means, if you copy two or more items, the first one gets overwritten by the last one. This means that multiple items cannot be stored in the Windows Clipboard at the same time. In order to overcome this limitation, we've come up with a desktop application which can be used to add some interesting and aptly needed functionality to the Windows Clipboard.
Clipboard Master is an application designed to do so. It stores all copied items in the clipboard and allows users to use the conventional Ctrl+V option to paste the last selected item. Clipboard Master comes with a selection menu which displays a list of stored items. These items are categorized by icons placed in front of every entry indicate the type, for instance text, URL etc.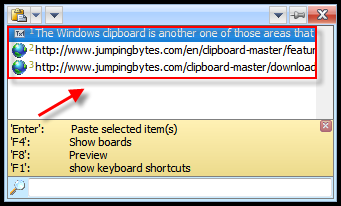 Clipboard Master also features a small history window which offers an easy to access menu which also categorizes copied items according to their type. You can access similar items by selecting their type from the expanding menu on the left. Options menu is also available to add or delete entries from those groups.
Clipboard Master features a lot of additional options as well which can be explored into further details if additional functionality is required. These include an extensive list of keyboard shortcuts and hotkeys, automatic formatting and special pasting options etc.
Clipboard Master is compatible with Microsoft Windows XP, Vista and 7 and is available in both 32-bit and 64-bit versions of Windows. Clipboard Master can be downloaded via this link.