Tech In 2015, Part -3 : Tablets (Replacing Laptops? )
Along with Smart Phones, 2015 has seen nice tablets coming from tech giants this year. Top companies like Samsung, Apple, Microsoft etc released their tablets in their respective lines with newest features and specs. The weird thing that happened to this year tablets was their design and usage. You may already know that a tablet would be bigger by size than a smartphone with touch screen all over and lesser size than a laptop or a computer. But in 2015, smartphones started to come in bigger sizes (we are still seeing smartphones greater than 6 inch display), tablets also started to move towards replacing your Laptop.
Almost every tablet that came out this year has a keyboard attached giving you a feel of actually using a laptop. But did they achieve that goal ?
As the next part of Tech In 2015, let us find out regarding tablets which came out this year.
Microsoft Surface Pro 4
Microsoft, the tech giant released Surface Pro 4 this year in their tablet-laptop series claiming that "The tablet that can replace your Laptop". Surface Pro 4 actually satisfies lot of aspects in compared to a laptop and can be replaced by a laptop when compared to remaining tablets. Surface Pro 4 came out with latest stuff from Microsoft with great specs inside getting nice response from everywhere as a perfect windows 10 tablet.
Surface Pro 4 comes with magnesium casing with curved display and features a 12.3 inch PixelSense display (2736 x 1824, @267ppi) from Microsoft measuring 292.10 x 201.42 x 8.45. Microsoft released three variants:
1. Embedding different chips inside -Intel 6th Gen Core m3 (Intel HD Graphis 515), i5(Intel HD Graphics 520) and i7 (Intel Iris Graphics)
2. RAM – 4GB/8GB/16GB
3. Storage – 128GB/256GB/512GB/1024 GB
Surface Pro 4 runs Windows 10 Pro and comes with Office 30-day trail. Coming to camera, Surface Pro 4 has 8MP front shooter with 1080p HD video recording and 5MP front facing sensor with 1080p HD video recording. It also features a battery giving you up to 9 hours of video playback. Connectivity options include BT 4.0, Wifi 802.11 a/b/g/n and has Ambient Light sensor, Accelerometer and Gyro sensors embedded.
As you can see, Surface Pro 4 is a great performer. A great advantage of this guy is it's customization. Depending on the budget, you can choose a variant and tt gives you variety of color options to choose from for accessories like keyboards and styluses. Surface Pro 4 also includes latest features from Windows 10 such as Windows Hello (Authentication), Cortana (Voice assistant). Using stylus (Surface Pen) you can do some awesome stuff too like drawing and taking notes on your tablet.
Surface Pro 4 contains everything you need in a tablet/laptop from Microsoft.
Apple iPad Pro
Apple released iPad Pro this year in their tablet series with lot of changes in terms of design and specs. iPad Pro is the first tablet from Apple with huge display containing a Keyboard and a stylus (Apple Pencil), with added features. Even though people felt weird to see such huge display gadget from Apple this year, the company included great specs and features inside. For multimedia, this device is beast and handles high resolution stuff very easily.
iPad Pro has a unibody typical Apple design and featuers a huge 12.9 inch LED retina display (2732×2048, @264ppi) with fingerprint resistant oleophobic coating. Under the hood, it features a super fast Apple A9X chip (64 bit architecture) with M9 motion sensor running iOS9. iPad Pro is available in two variants – Wi-Fi models (32GB/128GB) and Wi-Fi + Cellular Model (128GB With Apple SIM). It features 8MP iSight Camera (f/2.4, Auto Focus, Five-element lens) on the back with 1080p HD video recording(30fps) and 120fps slow motion video. Coming to the front, it has 1.2MP shooter (f/2.2, Back Side Illumination, Auto HDR, Burst Mode) with 720p HD video recording. Coming to connectivity, both variants support BT 4.2, Wi-Fi 802.11 a/b/g/n/ac and Wi-Fi+Cellular Variant has LTE support. iPad Pro comes with 38.4 watt-hour rechargeable Li-polymer battery with approx upto 9 hours of backup time.
Clearly iPad pro has HD display even though in huge screen. The super fast A9 chip on this guy gives you the ability to process HD video pretty easily. On top of that, it has a great battery to gives you highest back up time out of all tablets this year.
Even though you don't need a stylus in this huge tablet, but for those who draw, it gives ability to draw in multiple layers using pressure sensitivity. Even though you find charging your pencil a little weird, people started using it to draw some cool stuff.
You can read Apple Pencil Review by Pixar Artists
Google Pixel C
Along with latest Nexus 6P and Nexus 5X, search engine giant Google released their Android based laptop – Pixel C. Pixel C is the smallest when compared to size among all the tablets this year.
As I said earlier, Pixel C also has a keyboard attached to it with magnet based mechanism to attach and detach. The magnets on the tablet are so rock solid, that people started to attach the tablet to fridges and other things in their house.
Anyway, talking about specs, Pixel C has a metallic uni body design with curved edges containing a 10.2 inch LCD display (2560×1800, @308ppi) display with 242 x 179 x 7 mm size weighing 157 grams in hand. Under the hood, it features a NVDIA Tegra X1 chip coupled with 256 Core Maxwell GPU. It runs Android Marshmallow 6.0 OS.With 3GB RAM and 32/64 GB Storage, it offers everything you need in an Android Environment. Coming to camera, Pixel C has 8MP primary sensor and 2MP front shooter. It has 9243mAh batter inside. Connectivity features include BT 4.1, Wi-Fi 802.11 a/b/g/n/ac, USB Type-C. Comes with Ambient Light, Gyroscope, Accelerometer, Compass, Hall, Proximity sensors embedded.
As I said before, all tablets came out this year turned out to be with huge displays. If you aren't a fan of huge displays, and like Android, Pixel C is everything you need. Even though this isn't the best performer in the world, but it combines best hardware and software features from Google.
Samsung Galaxy View
Samsung announced Samsung Galaxy View this year as their high end tablet which is the biggest device we've seen this year. I don't know why, but this Korean giant launched a tablet to compete with it's rivals with huge 18.4 inch display. It has larger screen than most of the laptops/displays in the market and it came out just to follow the huge display trend.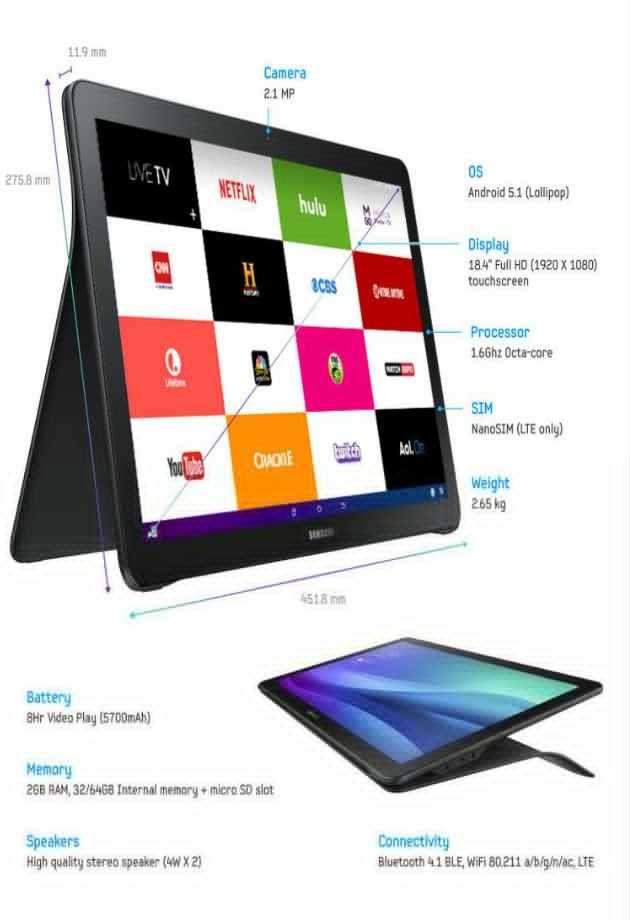 There are lot of things which are huge apart from the display for this guy is its weight – 2.65 kg in hand. If you look inside of it, it doesn't contain that much great sutff. It has a 1080p display, 2GB RAM, 32/65GB storage, 1.6 GHz octa-core processor, 5700mAh battery, 2.1Mp front camera , BT 4.1 and WiFi 802.11a/b/g/n/ac. Not that great insiders compared to other laptops this year except display and weight. The good things (not so good for a tablet though) are it's NaNoSIM(LTE only )support and a micro SD Card slot. This guy has lot of apps to watch videos and stuff to utilize it's biggest display like – YouTube, Netflix, Hulu, CNN, Twitch etc.
If you are a fan of huge screen (almost like a TV) running Android, and not so much into tech specs, you may also
take a look at this device
Ending Thoughts
This year, we have seen a shift in the basic themes of phones and tablets – phones started to replace tablets with bigger displays, and tablets came with keyboards trying to replace the laptops. Even though Microsoft seem to be satisfy some aspects in that direction, others aren't quite there yet. That said, each high end tablet this year has great features and specs and tend to be great performers. If you want to buy a device to replace your laptop, you might not fully satisfied with any of them and get stuck at some point on how to use them. But if you are looking at them as a first step towards as tablets turning laptops, you would find no downside with them and the features they offer.
Which is your favorite tablet this year? Do let us know in comments!