The User Profile Service Failed The Logon Error When Login in Windows 10/8/7
If you have suddenly got an error message called The User Profile Service Failed The Logon when trying to login to Windows 10/8/7. This error can occur due to distinctive reasons. One of the reasons is corrupt user profile. Talking about that, a user profile can be corrupted for many reasons. However, if you are facing this issue, you can follow the following solutions to get it fixed.
When you type your computer password and hit Enter, you will typically see the error message that "The User Profile Service failed the logon" and "The user profile cannot be loaded," and you'll be returned to the logon screen again.
Why does it happen?
As mentioned earlier, this problem can occur due to the user profile corruption. However, there can be other reasons as well. For example, if the Don't logon profile with impermanent profiles Group Policy setting is arranged, you can find this error.
On the other hand, if the client profile organizer was erased physically from the registry editor, you might get the same issue.
The User Profile Service failed the logon
This problem appears on Windows 10/8/7 and you can get this issue after entering the password on the login screen. It doesn't matter whether you are using Windows 10 or 7, you can get this error message before getting into the Desktop.
1. Restart your Computer
This may sound weird and easy, but you can definitely fix your problem. Sometimes antivirus apps can create this problem and corrupt the user profile. As mentioned earlier that the corrupt user profile can cause this issue, it can solve the problem temporarily. By restarting your computer, you can reestablish all the system files. Hence, it would be helpful for you.
2. Restore the Registry
If you do have a further issue with your PC in the wake of rolling out Registry improvements, you'll have to reestablish everything to its factory settings. To gets started, you need to boot Windows 10 into Safe Mode. After opening the Advanced Startup, go to Troubleshoot menu. Following that, click on Advanced options, and Startup Settings respectively. After that, you can find several options like these-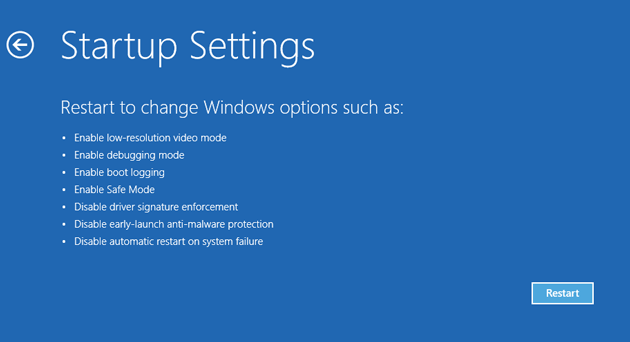 Press the number 4 key on your keyboard to boot the system into Safe Mode.
After that, open Registry Editor and follow this guide to restore your registry files. However, you must have the backup file. If you haven't created any backup earlier, this method is useless for you. However, if you have a backup file or the .reg file, you can follow this tutorial.
However, you must know what you are doing. If you do anything wrong, you may end up losing data as well as the whole system including your files saved in the hard drive.
3. Degenerate profile
Microsoft says that a client profile can wind up plainly undermined if your antivirus is filtering your PC while you attempt to sign on, yet it could likewise be created by different things.
A snappy settle can be to restart your PC. However, if this doesn't work you'll have to restart again and boot into Safe mode. Do this by squeezing F8 before you see the Windows stacking screen and picking Safe Mode from the menu that shows up.
Experimental Mode logs you into the implicit Windows director account, yet you may locate that a few alternatives don't work.
Step 1. To settle the client profile, click Start and sort regedit into the run box and press Enter.
Step 2. Registry Editor will dispatch, and you have to explore to the accompanying subkey:
HKEY_LOCAL_MACHINE\SOFTWARE\Microsoft\Windows NT\CurrentVersion\ProfileList
Step 3. Click every S-1-5 organizer and double tap the ProfileImagePath passage to discover which client account it identifies with. (On the off chance that your organizer name closes with .bak or .ba take after Microsoft's guidelines to rename them.)
Step 4. When you have found the organizer for the degenerate profile (and it doesn't have a .bak finishing), double tap RefCount and changed the Value information to 0, and click Ok.
Step 5. Presently double tap on State and ensure the Value information is again 0 and click Ok.
Step 6. Close regedit and restart your PC. You ought to now to have the capacity to sign into your record.
4. Make secondary client profile
If you have created more than one profiles on your computer, you can follow this tutorial. However, if you haven't got a secondary profile or any administrative profile, you can follow the next solution.
To get started, boot into Safe Mode (as mentioned above) and attempt to take the means. As you need an administrator account to it at this moment, here are the steps that you can follow to create one and go further.
At first, you need to open the Command Prompt. You can find the Command Prompt in the Ease of Access menu, which is visible on the login screen. After opening the Command Prompt, you need to enter this command-
net user administrator /active:yes
It doesn't take more than a moment. After completing this step, restart your computer. You should find an administrator account on the login screen. You need to log into that administrator account and follow the following steps.
At this moment, you can keep using the administrator account. However, if you want to create a secondary client or standard user account, you need to follow these steps.
Press Win + I to open Windows Settings panel in Windows 10. The same thing can be opened from the Start Menu as well. After opening, click on Accounts > Family & other people. On your right-hand side, you should find an option called Add someone else to this PC. This option is listed under Other people label.
Therefore, you need to enter the email or phone number to create another account. If you do not have either of them, you can click the I don't have this person's sign-in information and follow the screen options to create another user profile. In this case, you can create an account without an email address. For that, you need to click Add a user without a Microsoft account option.
After creating the new user profile, you can keep using that.
5. Delete corrupted user profile
Deleting a corrupted user profile is not that easy since it can cause severe problems in your system. As a user profile is synchronized with the Registry Editor and all the system files, you need to take care of that. As a precaution, you need to create a system restore point and backup all registry files. Before that, you need to create another user profile. For that, you can follow the method as mentioned above. After signing into an administrator account or any standard user profile, follow the following steps.
At first, open This PC > right-click on empty space > select Properties.
Click Change settings button visible under the Computer name, domain, and workgroup settings label.
In the System Properties window, switch to the Advanced tab and click on Settings button visible under User Profiles label.
Now select the user profile that you want to delete and choose Delete.
Not only that but also you need to remove some keys from Registry Editor. For that, open Registry Editor on your computer. You can press Win + R and type regedit to open that. Otherwise, you can search for regedit using the Cortana Search box.
In the Registry Editor, navigate to the following path-
HKEY_LOCAL_MACHINE\SOFTWARE\Microsoft\Windows NT\CurrentVersion\ProfileList
Right-click the SID that you need to evacuate, and after that click on Delete.
Sign on to the PC and make another profile.
6. System Restore
If the solutions as mentioned earlier are not working for you, this will fix your problem within moments. However, it works only if you had created a system restore point before started getting this issue. If you have already created a system store point, you can open the Advanced Startup window and use the System Restore option.
7. Reset Windows 10 PC
As this problem occurs due to a corrupt user profile, it can be fixed if you reset the computer. Windows 10 users do not need to use the CD or DVD method. Instead, you can use the Advanced Startup window to find the same option. If you reset the system, all the settings will be set to factory settings. The best part is you can keep all your files, documents, etc. To get started, restart your computer into Advanced Startup window > click on Troubleshoot > Reset this PC. After that, your system will reboot and perform everything automatically.
Final verdict
Caution: We firmly suggest making this the standard approach to expel client profiles from PCs. The archived and upheld method is by utilising the Advanced System Settings in the framework properties, "Client Profiles" settings. For projects, this is accessible by utilising the "DeleteProfile" API.
If the SID is available, Windows will attempt to stack the profile by using the ProfileImagePath that focuses on a nonexistent way. In this way, the profile can't be stacked.