Tips to Optimize Firefox Portable and Chrome Portable Browsers using SpeedyFox Portable
Firefox portable and Google Chrome portable browser versions have taken internet browsing to an altogether different level. With these options, you no longer need to save data to your home PC or office PC from where you use the normal Firefox or Chrome browser for later access. You can take these portable browser versions wherever you want and access them on the go.
A bigger advantage of browsers like Firefox portable is that even browser extensions that fail to work on latest Firefox versions can easily work on the portable version. In simple words, with the availability of Firefox portable or Chrome portable, you do not need to downgrade to a lower browser version or refrain from upgrading to a higher browser version for better extension compatibility.
Even though both Chrome and Firefox portable browser versions enable browsing at lightning speed, they too need optimization after consistent usage i.e. after a certain point of time, you will need to boost the browsing speed of portable browser versions as well.
In this article, we shall understand the need to optimize and increase speed of Chrome portable and Firefox portable using SpeedyFox portable tool.
Why shall we need to optimize Firefox portable or Chrome portable browsers?
For the initial few months after fresh installation of Firefox portable or Chrome portable, you will experience high-speed browsing. However, as you start installing numerous extensions and use your browser regularly, your SQLite databases grow in size. This is because your browser and extensions store their relevant settings, bookmarks, history, etc. to the database. With time, it is obvious that you will experience significant browsing speed reduction even with the portable versions. For this purpose, it becomes necessary to improve their speed using an effective tool called "SpeedyFox" from Portableapps website.
How does SpeedyFox portable tool help to optimize portable Firefox and Chrome browsers?
SpeedyFox tool helps to increase the speed of local as well as portable versions of Firefox, Thunderbird, Google Chrome, Skype, etc. by optimizing their memory usage and settings storage (SQLite database). The SpeedyFox Portable tool is even better. It is available for free download for personal as well as business usage at:
SpeedyFox Portable Installation Link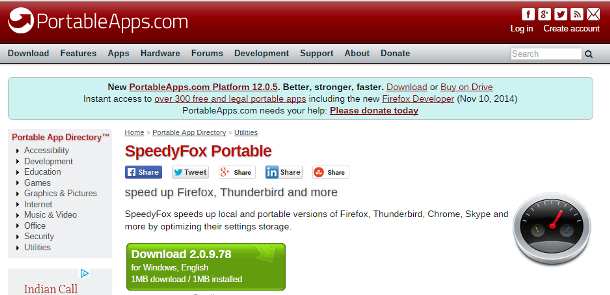 It gets packaged in Portableapps.com format that can easily integrate with Portableapps.com platform. This tool come pre-configured with the ability to identify portableapps website packages for your portable apps instead of selecting them manually.
The tool compresses the SQLite databases and makes them compact. This in turn enables Firefox portable or Chrome portable to run faster. Once you run SpeedyFox portable tool, it automatically detects the browser profile for Mozilla Firefox and its portable edition, Google Chrome and its portable edition, Mozilla Thunderbird, Skype, Opera, etc.
All you need to do is select the applicable profile and click on "Optimize" option. You might be prompted with a warning message if you are currently using any of those browsers to be optimized.
After the optimization process, it shows the number of files optimized, size of files as well as time taken for this process.
I am sure you will find that the latest release of SpeedyFox Portable 2.0.9.78 version will meet all your browser optimization needs for local as well as portable web browsers. Kindly share similar optimization tips that might have worked for you.