Turbo Download Manager: Free Download Manager for Windows and Android
Windows and Android both are awesome operating systems, which have loads of free apps and games. You can find almost all types of apps of these two platforms. For example, you need travel apps, you can simply search for that. Just like that, today I am going to let you know about a free download manager for Windows and Android. Although, people do not download a lot of things from mobile but they do it using computer. Therefore, if you often download large files from the internet, this download manager is going to help you a lot.
Suppose, your internet connection is not so good or it is having some problems right now. At the same time, you have to download some files to do something. If you use Google or Firefox or any other browsers' download option, your download mat get stopped due to bad internet connection. Whenever, your connection will stop, the download will be interrupted as well. Therefore, it would be pretty difficult for you to download large files from the internet.
This is when you should start using a download manager. There are several download managers available for Windows. For example, the most common download manager is Internet Download Manager. However, this is not free. So, if you are trying to find a free download manager for Windows or Android, your searching will be ended here. Introducing Turbo Download Manager, which comes with some basic and essential features those will let you do almost all the things what Internet Download Manager does.
Turbo Download Manager: Free Download Manager for Windows and Android
Like said before, Turbo Download Manager is absolutely free for Windows and Android. However, currently this is available in bets version for Windows and you can download it for Windows 7 and later version – though there is no such confirmation on the official website. If you wish to use it on Android, make sure to have Android 2.3.3 and later version.
It also offers browser extensions but it is not so user friendly for a regular PC user. Also, this is an unsigned extension. Therefore, it would not be safe to have it in your browser. Anyway, you can download Turbo Download Manager and use it without any issue. The most important thing is this is a portable software.
Therefore, download and open it on your Windows computer. As you are not using extension, you will have to provide all the download details to this app so that it can fetch your file from the internet and download it accordingly. To do so, just click on the Plus icon. Therefore, you can enter download link, file name, preferring page, description, number of threads etc.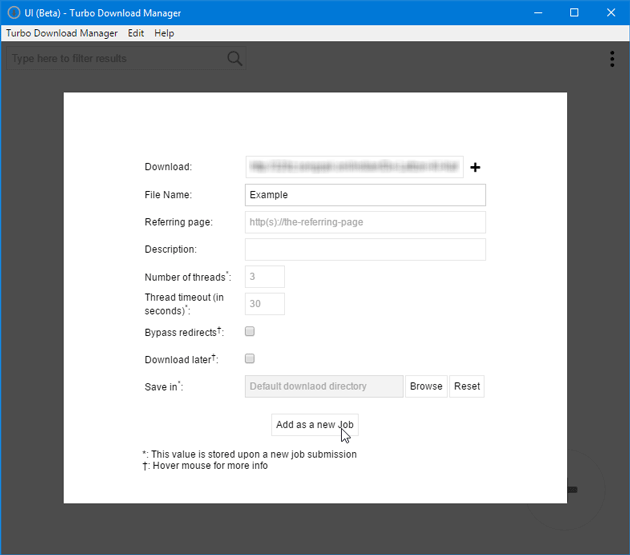 This is also possible to set scheduled download. Anyway, after setting up everything, just hit he Add as a new job button. The download will be started after fetching the file by this app. During download, you will get some options like pause, stop etc. Just hit the respective buttons to get those facilities.
That's it! Hope this tiny app would be helpful for you.