Win10 Security Plus: Improve Your Security and Privacy in Windows 10
If you are using Windows, you may know that Windows 10 is one of the best operating system because of having such a great user interface, features, functions and availability of third party software. According to plenty of professionals, Microsoft has developed one of the best operating systems. Microsoft is continuously listening to the users' voice to improve this operating system day by day. Therefore, as a result, they have developed such a brilliant OS, which is being loved by all types of users.
However, nothing is perfect and Windows 10 has no such exception. If you are using Windows 10, you are providing a lot of data about yourself to the developer called Microsoft. In other words, Microsoft is gathering different type of data from the users to make it even better. For example, user's behavior with the OS, calendar data etc. are being captured by Microsoft via Windows 10. Some people like it because they think Microsoft is doing this to make the OS better, which will eventually help them. However, this particular thing is not liked by rest of the people and the number of users is huge.
Therefore, if you are one of them, who think Microsoft is doing wrong, you can simply block Microsoft from gathering all the data that you are currently giving away. Obviously, this is not possible manually. Therefore, you will have to make use of a third party software that will let you improve your security and privacy in Windows 10.
Win10 Security Plus: Improve Your Security and Privacy in Windows 10
Introducing Win10 Security Plus, which is a free software and obviously this is available for Windows 10. The best part is you can download the installer of this tool or you can also have the portable version, which doesn't require any installation. You can opt for any option you wish.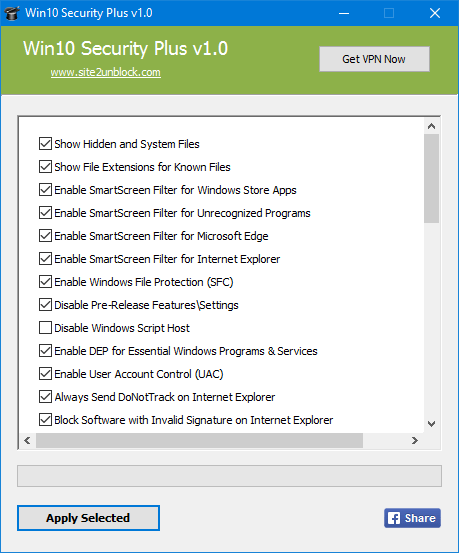 Features of Win10 Security Plus
It comes with several features or options that you want to allow or block. You will just have to make or remove a tick in order to allow certain feature in Windows 10. This is as simple as said. However, the following features are currently available in Win10 Security Plus.
Show hidden and system files
Show file extension for known files
Enable SmartScreen filter for Windows Store Apps
Enable SmartScreen filter for unrecognized programs
Enable SmartScreen filter for Microsoft Edge
Enable SmartScreen filter for Internet Explorer
Enable Windows filter protection (SFC)
Disable Pre-Release features/settings
Disable Windows Script Host
Enable DEP for essential Windows programs & services
Enable UAC
Always send DoNotTrack on Internet Explorer
Block software with invalid signature on Internet Explorer
Always send DoNotTrack on Microsoft Edge
Activate SHE overwrite protection for all programs
Disable remove registry service
Disable execution of 16-bit processes
Enable Windows updates
Enable Windows Security Center
Enable Windows Defender
For Windows to unload DLLs from memory
Turn on Internet Explorer pop-up blocker
Enable volume shadow copy service
Turn on Microsoft Edge pop-up blocker
Notify me on USB devices connection errors
Disable Windows remove assistance
Disallow remove desktop connections to This PC
Enable Internet Explorer memory protection
Restrict changes to Base System Objects
Completely block and disable Autorun.inf files
Disable autoplay for any device
Disable automatic restart on system crashes
Disable NTFS short file names
Enable Windows system restore
Disable Microsoft Consumer experience
Enable driver signing check
Safely search DLLs to load
Verify signature to download programs
Disable drivers update from Windows Updates
Warn on bad SSL certificate
Prompt user in unsigned driver software in installed
Check for server certificate revocation
Defer Windows upgrades
All the things, what you can allow, can also be disabled.
That's it! Hope this tiny tool would be helpful for you. If you like, you can download Win10 Security Plus from here.
You can also check W10Privacy and DoNotSpy to improve your security.