Is Microsoft planning an early build of Windows 8 ? They aren't saying but the following leaked pictures of Windows 8 reveal something is in the works.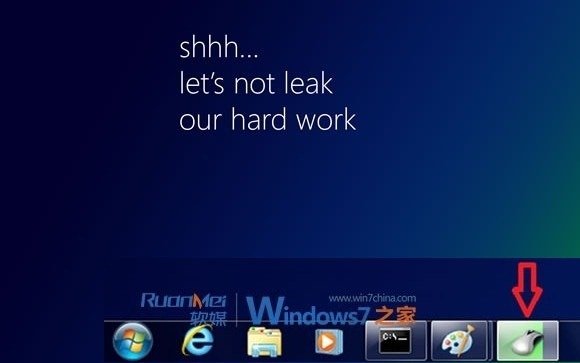 The above leaked image of Windows 8 was found earlier today at a Chinese website Win7china.com.
Here is another leaked screenshot which shows quite a few improvements in Windows 8 taskbar [upcoming]:
If you carefully look at the above screenshot, there are quite a few similarities as well as differences in the taskbar of Windows 8 to that of it's currently updated version (Windows7). First change is that the thumbnail image of the currently logged in user is shown at the far right. If that's the currently logged in user account and not anything else, it is completely unnecessary. It is certainly possible that the avatar that is being shown at Windows8 taskbar could be the profile photo of a Windows Live account.
Does that mean Microsoft is inching towards cloud computing and allowing users to login to Windows8 via their Windows Live accounts ? Will Microsoft allow similar features as to Google Chrome OS, as soon as a user logs in to any computer running Windows 8 with his Windows Live account, he will have access to all the documents, photos and files stored at Windows Live Skydrive (25 GB, mind you) in My Computer, mapped as a Network drive ?
The nest leaked screenshot of Windows 8 does reveal that Microsoft is going to show progress of driver installations just like they show progress for file downloads or file transfers (local or within a network). Look at the background of the mouse icon to understand.
Several other credible sources have revealed that Windows8 will have a "Factory Reset" option instead of the normal "System restore". Using the Factory restore feature in Windows8, users will be able to revert to Windows default settings and configurations within no time. The installation time for Windows 8 is also going to reduce by two and half times, faster installation and speed ? No words, as of now.
Related: Free windows8 wallpapers in HD