Wondershare Video Converter: Ultimate Video Conversion Utility For Windows and MAC
Although there are tons of free video conversion tools out there, I am not a very big fan of free tools and prefer using a premium one for all my video conversion needs. This is because free tools come with limitations and often the quality of video conversion is not at par with that of premium tools. Again, free solutions have limitations on the number of files you can convert in a day, they will either put watermark on your videos or won't allow you to convert the videos into a plethora of formats that is supported in mobiles, tablets and cross platform devices.
Wondershare Video converter Ultimate is our choice of premium video conversion tool which comes with all the necessary features required to convert videos from one format to another, burn converted videos to a CD or DVD, download videos from the web or host a media server
Features of Wonder share Video Converter Ultimate
Firstly, you can load the contents of your entire CD or DVD and run a batch convert to convert all the contents of the DVD to a new file format. For example, I plugged in the DVD of my favorite movie and loaded all the content of the DVD into Wonder Share video converter.
Next, I had to choose the output format I need for conversion. Since I am a techie and I know which format is supported in which devices, I was quickly able to choose the output format of the converted video. But in case you are not a techie and do not understand all the nuances of the format, you can choose the device where you want to play the converted video and Wondershare's video conversion tool will automatically choose the best format for video conversion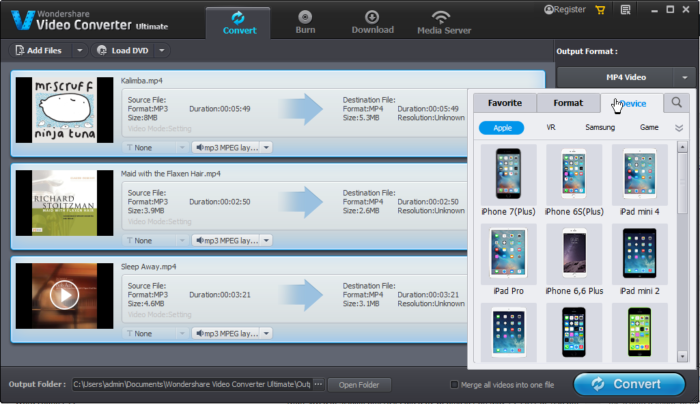 For example, I was not too sure which format I should choose to convert a DVD video so that I can play it in my LCD TV and also play it in an iPad Mini. I didn't have to google the formats supported by these devices, I simply went to the "Devices" pane, selected the output device and clicked on convert. That's it, Wondershare's video conversion tool did the rest and converted each video file to the output format which is supported in my target devices.
In case you want to merge multiple videos into one, remember to select the option – "Merge all videos into one file". This will ensure all your videos are merged into one file and you can enjoy uninterrupted playback (particularly useful when you are converting videos to watch in your TV)
Once you have converted all the files and want to burn it into a new CD or DVD, WonderShare Ultimate has a burning tool built right into it, so you don't have to download or purchase a third party DVD burning tool. Simply go to the "Burn" tab, select the converted files and click on "Burn". This will burn the converted videos in your new DVD.
Another great thing about Wondershare video converted ultimate is the ability to stream videos from a URL and download that video in your local computer. Let's say you have lots of videos in your YouTube channel and want to download them into your computer or burn those videos into your DVD. What would you do?
You would normally use an online tool to download YouTube videos, then use a video converted to convert them to a preffered format, then use a DVD burning tool to burn the converted files into a DVD. This is what I used to do before but not anymore, since Wondershare's video conversion tool allows me to download videos from YouTube and 1000+ online video streaming sites. I can save these videos to my computer, convert them into MP3 files, convert them to any video format of my choice or burn them into a new DVD and archive it.
Lastly, you can host a media server in your computer. Import video files from your computer or DVD and stream them to your TV or any other device that are DLNA or UPnP supported. It's a great feature since there are TV sets which do not have a built in DVD drive in them. In case you do not have a standalone DVD player in your home, you can simply use the video converter to stream videos directly to your TV, without having to have a DVD player in between. It supports Chromecast, Apple TV, PS3, Roku, AirPlay, DLNA, XBOX 360 as alternate devices.
In short, here are the features you don't want to miss in this premium video conversion tool for Windows and MAC
Convert any video / DVD to 150+ formats with High quality
Burn your precious videos to professional quality DVD
Download videos from 1000+ online video sites
Cast any media file to TV directly
Record videos from any websites
Download YouTube songs and channels in one click
30X faster video conversion supported
Free technical support and lifetime upgrade
You can download WonderShare video converter for Windows and Mac. The lifetime license of Wondershare video converter ultimate will cost you $59 for one computer,  you can also avail the family license at $118 for 2-5 computers.
In our opinion, Wondershare's video conversion tool is worth the money you spend since it comes with all the options you will need to manage video conversion, streaming videos from your computer to other devices, downloading videos from the web and burning them into a DVD or converting mobile videos to other formats, it's the only tool you will ever need to get all these tasks done without hampering video quality.