Best Apple Maps Tips and Tricks to Navigate Better
This is needless to mention that Apple Maps is the default navigation tool for iOS devices that has been developed by Apple itself. If you have an iOS device, you might know that Apple Maps is one of the best maps out there available for iOS device. Apparently, Google Maps can certainly compete with Apple Maps but Apple Maps is entirely different and much useful for them, who do not want to install third party map on their iOS device. If you are using Apple Maps for the first time or you are an existing user, here are few Apple Maps tips and tricks that will let you navigate better without any issue.
Best Apple Maps Tips and Tricks
1] Share your location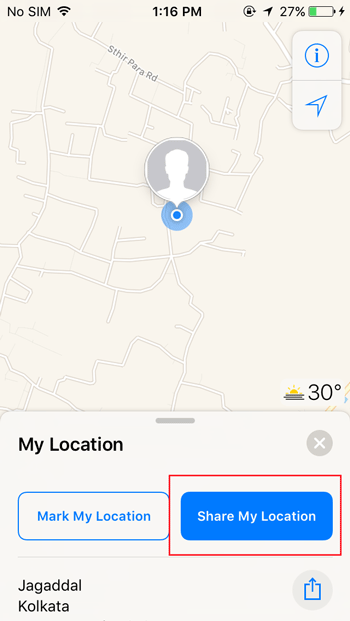 Let's assume that you are at a place you don't know. Or, suppose you are somewhere and you want to let your friends know where you are. At such moments, you can only share your location with your friends or anybody over social networking sites or instant messengers such as WhatsApp, iMessage or anything else. Select your location, tap on that and hold on that location until you get more options. You should get option like Share My Location. Tap on that and select a medium to share that with others. Your friend or the recipient will get a link that he/she can open in Apple Maps.
2] Mark location or drop a pin
We use pin to mark a location. For instance, you want to measure the distance from one place to another. Or you want to check something about few places. At such times, you can just mark your location and drop a pin so that you can navigate to that place in future. This is very easy and not much time consuming as well since this can be done from Apple Maps itself. At first select a location that you want to mark. Tap and hold the location for a few moments until you get an option called Mark My Location. Tap on that to get things done. You will get Latitude, Longitude, full address and many more after dropping a pic.
3] Get contacts and add new contact from Apple Maps
Like Google Maps, this is also possible to add contacts of certain places on Apple Maps. For example, you can get contact to hospitals, post office, bank, restaurants, and many more. You do not have to explore the internet to get the right phone number. Just find that out on Apple Maps and get the contact to save and use it further. At first, find a place that has phone number updated on Apple Maps. Therefore, you can find a screen something the aforementioned picture. You can now call or create new contact by scrolling down to the bottom.
4] Ask Siri to get direction
Suppose you are driving a car. At this moment, you should not use your mobile for safety purpose. Therefore, you can ask Siri to get a direction if you need one. You need to use a command like this,
Get direction of Mumbai to Delhi
Get direction of my place to McDonalds
And more like this. Siri will find a road and show you the direction on Apple Maps.
5] Avoid tolls/highways
Suppose, you are not so good at driving on highways. Therefore, this is not recommended to use highways mainly in the night. To avoid highway or tolls while going to somewhere, here is a trick. Open Settings > Maps > Driving & Navigation. Here you should get two options i.e. Tolls and Highways under the AVOID category. You need to toggle the button to avoid particular thing.
6] Enable compass on map
Sometimes we need to use the compass to find out the location of a specific place. For example, you want to know whether a place is situated at the north side of another place or not. Or, suppose, you want to know the distance between two places as well as their positions. Therefore, you can enable compass on map and check all the things mentioned above. For that, go to Settings > Maps > Driving & Navigation. Here you should get an option called Compass. Just toggle the button to activate it.
7] Flyover tour
Apple has launched a beautiful option to check particular cities from above the normal eye-sight. You can get a drone view of different cities from across the globe. This is called Flyover tour. To check that, search for a place such as New York. You should get an option called Flyover Tour. Tap on that, sit back and relax.
8] Clear tour history
Let's assume that you used someone your iPhone's Apple Maps to travel somewhere you do not want to keep that history. At such time, you can clear Apple Maps history. For that, you do not need any third party app. At first, open Settings > Privacy > Location Services >System Services > Frequent Locations. Here you should get an option called Clear History. Tap on that to remove the stored locations right away.
9] Gain knowledge using Wikipedia
Suppose, you want to know about a place where you are about to travel. Instead of opening the browser and Maps oftentimes, you can simply click on the Wikipedia link on Apple Maps to know more about that place. At first, search for a place, expand the options and click on the Open Wikipedia button.
There are more other tips and tricks of Apple Maps but hope these simple tutorials would be helpful for you.