9 Best Chrome Extensions You Must Have
There are about more than 65000 extensions of Google Chrome in the chrome web store. And while many of them may not be deemed as useful, there are some which are actually worthwhile to give attention to and will make your online life easier. Check out our list and discover new ways to surf with these best chrome extensions.
1. AdBlock Plus (ABP)
This is an advertisement blocker for chrome which will block any intrusive ad from websites like banners and pop-ups. It also filters Facebook and Youtube advertisements. You can also whitelist sites that you trust. A must have for all users.
Note: This extension should not be confused with Adblock which is a completely different independent tool and is known to have certain privacy issues. Therefore use ABP instead. Download AdBlock Plus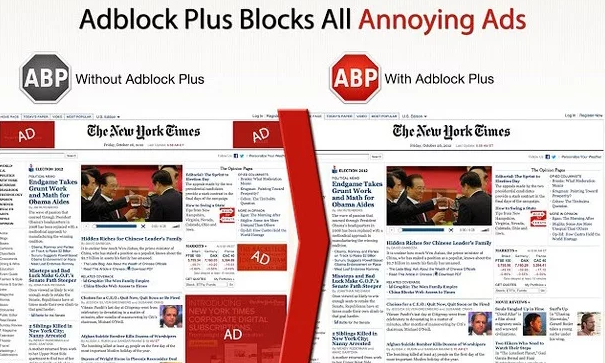 2. Web Of Trust (WOT)
The tool helps you to stay clear of suspicious websites that may infect your computers with malwares. It functions by rating websites based on site trustworthiness, vendor reliability, privacy, and child safety. It is a crowd source tool that helps you browse safely. Non-trusted websites are automatically shown as black listed. Download Web of Trust
3. Hola Better Internet
Hola let's you browse through websites that have been banned in your country, office or school. It does so by the use of VPN technology. Thus people can actually access Facebook from work or those blocked torrent websites in your country. Download Hola
4. Turn Off The Lights
This chrome extension makes the background of the entire webpage dark with the exception of videos. It does so neatly with just the click of a button. It really comes in handy while late night web surfing, and helps to save your eyes from strain. Also, it enhances the video experience on sites like Youtube. Download Turn Off The Lights.
5. Panic Button
We have all been at that place where we have been surfing something important and personal and a person sneaks up behind us without warning. Panic button is the answer to your woes. It hides and saves all your tabs with the a single click. Plus they will be password protected, so only you can resume the session. Download Panic Button.
6. PushBullet
Pushbullet lets you connect your smartphone directly to your computer so that you don't miss any important notifications. It also makes sharing media between the 2 platforms extremely easy. Moreover you can reply to certain alerts directly through the PC and also mute unwanted apps. A must have extension for a phone addict. Download PushBullet.
7. Synata
A perfect tool for cloud enthusiasts, Synata let's you search your various documents saved on various cloud based platforms like Dropbox, Box, Google Drive, Evernote, Office 365, and Sharepoint for now. Thus it makes sure you never get confused about the location of important documents. Download Synata
8. Boomerang
Boomerang is a Gmail browser add-on tool that lets you schedule emails to be sent automatically in the future. It is a great way to reply to important conversations even when you are not available. Mostly used for automated business replies and birthday wishes. Download Boomerang
9. TooManyTabs
It is a tool defined for power users who extensively surf the web with more than 20 tabs open at a time. It has a unique tiled tab interface with tab search and tab restore. One of the best tab management tools out there. Download TooManyTabs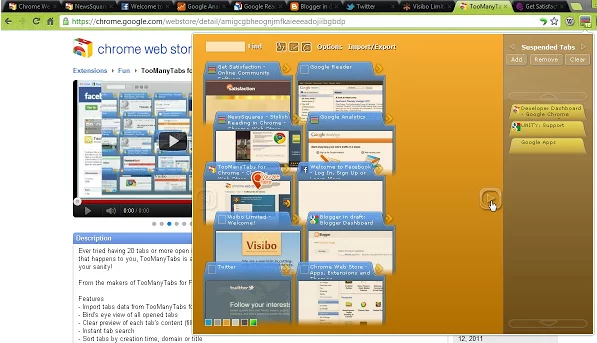 Conclusion
There are numerous other tools too that may have easily made this list but these were selected based on the user problems they help solve. Feel free to give your views in the comment section about your favorite chrome extensions.