Bitdefender Total Security 2015 Review – Why is this the best?
Being a Kaspersky Internet Security user, I never got anything better than that. However, the scenario is going to change very soon, I suppose, because, Bitdefender Total Security 2015 has been launched a few days back. The main competitor of Bitdefender is Kaspersky and ESET NOD32 version 7. However, Bitdefender has proven its advantages.
Here is an abbreviated review of Bitdefender Total Security 2015, which may be your best security solution in the upcoming year. In terms of price, usability, compatibility, usefulness, this security kit conveys its first place.
Compatibility
Alike previous versions of Bitdefender Total Security, this latest version is compatible with all major versions of Windows, which includes Windows XP SP3 (32-bit), Windows Vista SP2 (32 and 64 bit), Windows 7 SP1 (32 and 64 bit), Windows 8 (32 and 63 bit) and Windows 8.1 (32 and 64 bit). If you want to install it on Mac, just make sure that it is 10.7.5+.
Features and Performance
If you want a simple UI, go for this security solution. But, if you want to simple features to run an antivirus according to your requirements, I would simply recommend you to use other security solutions such as Kaspersky or ESET. Bitdefender comes with a complex settings. You must need to spend a few minutes to understand and set up all the features. However, most of the useful features and demonstrated below.
Protection
This is the backbone of Bitdefender Total Security 2015. In the Protection tab, you will get all options to scan your system, protect yourself from web threat, system vulnerability, firewall, antispam and so forth. Let's start with Antivirus. It does what it says. You can scan your system for any kind of malware, spyware and virus. You can scan your PC in two different modes. Quick Scan and Entire PC scan.
The Vulnerability feature will let you scan your PC for the significant security update, software update and more others.  The INTRUSION DETECTION tab will help you scan your registry files and find various malicious files. The next tab is Web Protection. This tab will help you to enable or disable Search Advisor, Scan SSL, Protection against fraud, Phishing and so on. This security software provides Firewall but there is no need to use this because Windows Firewall is the best Firewall.
Privacy
As this is a total security solution, you can find more options than a regular antivirus. This Privacy tab is one of them. The first option is File Shredder, which will let you delete any file or folder permanently. The Wallet will help you to record all your sensitive data such as account IDs, password, etc. the next feature is Parental Control. You can set it up to prevent others from using certain features. To use this feature, you must have to create Bitdefender account.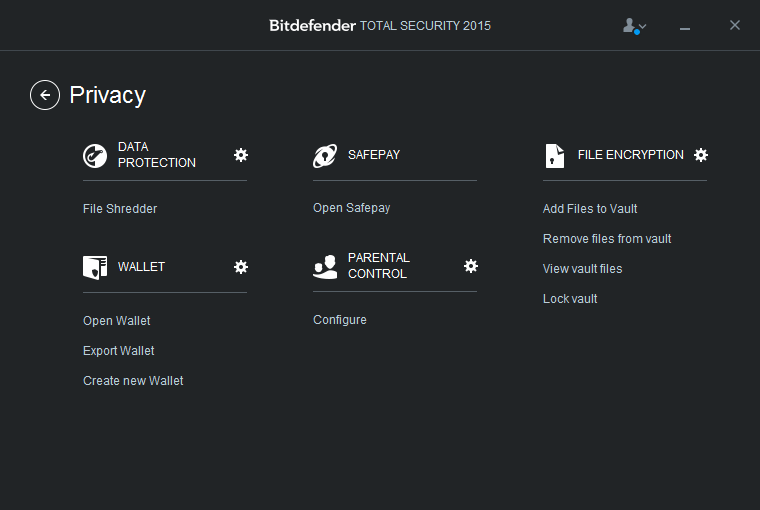 If you want to encrypt your files, check out this feature. Bitdefender Total Security provides a great vault to lock down confidential files. You can use it as a file and folder locker.
Tools
If you are a CCleaner or any other PC tune up utility user, it's time to uninstall them. Bitdefender Total Security offers some useful options to make your PC faster and smoother. You can get OneClick Optimizer, Startup Optimizer, PC Cleanup, Disk Defragmentor, Registry Cleaner, Registry Recovery and Duplicate File Finder. Apart from all these features, you will get Anti-Theft and shared folder manager.
There are some other features as well. You can use the One-Click optimizer right from the main user interface. This one Click optimizer has Disk Cleanup, Registry Cleanup and Privacy Cleanup. Privacy Cleanup means managing browser cookies, cache, browsing history etc.
Safepay
This is the most useful feature for them, who often use online payment systems. For online transaction, you can simply head over to Bitdefender's own incognito browser.
User Interface
The visual design is awesome and much better than other similar security kit. It sustains today's design trend, which means, you will get Flat design. There is another reason why it has Flat UI. This is because it is compatible with Windows 8 and Windows 8.1.
Price
You can purchase it from the official Bitdefender website or head over to different online shopping portals. On the official website, it is priced at $89.95 for 3 PCs and 1 year of validity. According to the number of PCs, the price will be reduced accordingly.
Missing Features or Cons
This is obvious that nothing is perfect. Hence, Bitdefender Total Security 2015 is also not perfect, but it is more than enough. If you have used Kaspersky on your PC, you noticed that it scans external drives or removal storage automatically right after plugging in. However, you won't get such feature in Bitdefender Total Security. It works on demand basis. On the other hand, it has more than enough features to create a defragment. Although, it works great with default settings, but still you may have to make a couple of changes to run it as per your requirements. Hence, the actual problem starts. You have to spend a lot of time to get things done.
Conclusion
It comes with the cloud based update process, which helps users to update their security database frequently. If you consider all the features, price and performance, you would not compare it with any other total security kit. After using it for more than 10 days on two PCs, I have not got any problem like lagging, hanging etc. which are quite common in Avast. You should purchase it for your PC to protect yourself from being cracked. You can also try the trial version before purchasing.