4 Online Tools to Extract, Convert and Send Zipped Files Online
Let us suppose that you want to extract the contents of a zipped file but do not have an unzip utility installed on the computer. Here are some free tools to extract zipped and RAR archives online.
Wobzip – Extract Zipped Archives online
Wobzip is an online zip utility which can be used to extract zipped and RAR files online. If you want to download only specific files from a zipped archive, you can use Wobzip to first unzip the package and then download only selected files.
Wobzip is based on the open source zip software 7zip and hence supports all the major archived formats like ZIP, RAR, CAB, ISO, TAR. etc .
Just type in the location of the ZIP file here and wait for Wobzip to unzip the zipped archive. After the unpacking is finished, you can view the contents of the archive and download selected files in your computer.
Wobzip supports extracting archives from your computer as well as from a web URL so you can just paste the download link of a ZIP file and extract it.
ZamZar – Convert ZIP Files into other Archive formats Online
Suppose you have a broken zipped file in your computer which WinRar, Winzip is unable to open. You need to convert the ZIP files into suitable format and extract the files.
Use ZamZar – a free file online file conversion utility which lets you upload files, documents and convert them in your desired formats.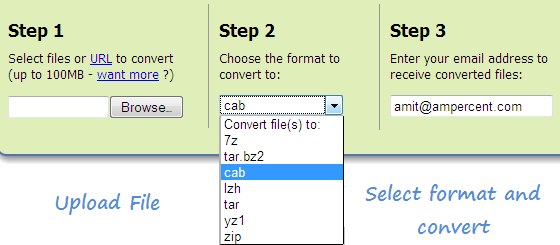 You can upload files from your computer as well as from a web URL. Zamzar will email you the converted version of the file you upload. Supports ZIP, RAR, TAR, Cab, 7Z, Z2 etc. The best thing about Zamzar – it supports converting multiple files in one go.
Tip: Tools to create ZIP files online.
Krunchit – Compress and Decompress Files online
If you want an all in one solution to compress as well as decompress files online, check out Krunchit. Krunchit lets you upload large files (up to 100 MB) and compress them in ZIP or TAR,GZ formats. The maximum number of files per ZIP archive is 10.
If you sign up for a free account at Krunchit, you will be able to keep track of your uploaded files and access them later on. Additionally, you can email zipped files to two email addresses as download links or email attachments.
Online Zip – Create ZIP Files online and send as Email
Online Zip lets you upload up to 5 files, each file size being lesser than 650Kb and it will create a zipped archive of your documents. Next, it will email the download link of your zipped file to an email address you specify.
Which one to Choose from?
If you know the web link of a zipped file and want to download only specific files, Wobzip is the way to go.
Zamzar is to be used to convert zipped files into other formats e.g RAR,. Say you have a zip software installed in the system which can not understand the type of ZIP file you are trying to extract. In those cases, there is no need to use zip conversion utilities. Just use Zamzar and download the same ZIP file in your preferred format (ZIP, RAR, TAR, CAB, 7Z, Z2).
Krunchit should be used when you want to compress or decompress large files such as videos, MP3's, images or  may be a large number of office documents.
Online Zip saves the hassle of downloading the zipped files as you can send the download link to any email address of your choice. So, if you are working on a public computer which does not have a zip utility and you do not want to open your email account, Online Zip is the right tool to use.
Have you ever used any online zip tool? Let us know your ideas in the comments section.